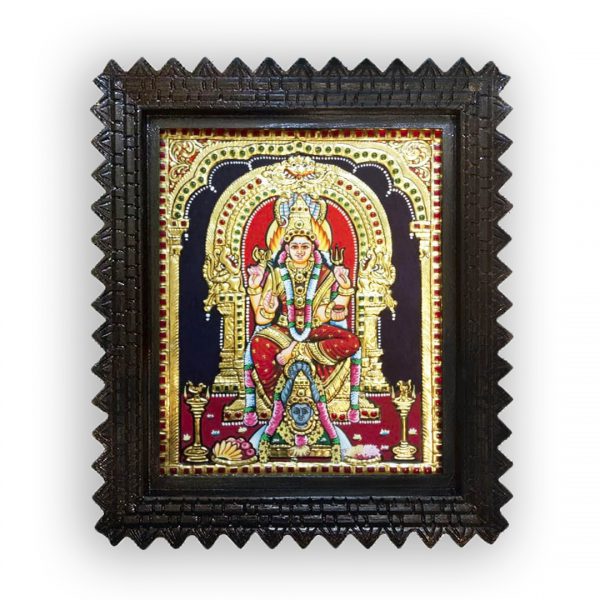 Tanjore painting Devi Karumariamman
₹7,899
Inclusive of all taxes.
Free shipping on all orders above ₹499.
The Devi Karumariamman is the true form of shakti (the divine mother), who is worshipped by many. She dwells within all forms of life and guides them in all walks of life. This tanjore style of painting is painted with the natural water colors and framed with fine cut Teak wood. Glowing parts of the painting is embedded with 22 karat gold foils along with gemstones, giving a life to the painting. This hand painted painting is called the tanjore or Thanjavur painting, is a bliss to one's eye.One finds inner joy and peace by just looking at the deity. Hurry and grab artefact to grace your home with good fortune, joy and success.

In Stock
Usually delivered within 6-9 working days
Get Rs500 off on shopping of Rs 4000 & above . Use coupon code "TROGONS500"
10 % instant discount for all new users . Use coupon code "TROGONS" on min spend of Rs499
Description
Art, music, culture and literature has been flourishing since many generations in the state of Tamil nadu. Thanjavur painting is one such form of art and culture being admired by many. They are unique and flaunt vibes of history and divinity. The paintings usually revolve around Hindu deities. A fine touch of 22ct gold and gemstones around borders, truly enhance their beauty, making them more lively. Devi Karumariamman in this portrait is sitting calmly on the golden throne with abhayahastam, blessing her devotees. She is believed to be the strongest of all deities, yet very pious and pleasing. A mere glimpse at the portrait will energize you and remind you of true virtues. Devi Karumariamman in the painting will perfectly decorate your home interiors and illuminate with vibes of divinity and history. Tanjavur paintings are well crafted by the artisans and enclosed within a fine cut and designed teak wood from Chettinad. This structure along with thin acrylic material holds the painting stiff and intact, avoiding damage. Thanjavur style of paintings are a combination of art, history, divinity and heritage.

Bring this artefact to your beautiful abodes and decorate it with these stunning paintings. The brightness of the portrait from the water soluble colors of the skilled artist and the eternal charm of Devi Karumariamman, enhances the traditions and cultures of Thanjavur, Tamil Nadu. Buy the most elegant and gorgeous looking portrait of Devi Karumariamman and flaunt any space in your interior. This tanjore painting of goddess Devi Karumariamman can be hung on any wall in your room, kitchen, restaurant or even used to worship in your pooja rooms.
Product Specification
Primary Material – 22 K Gold foil handpainted art on waterproof plywood , semiprecious stone and zircon stone work, chettinad teak wood frame with good quality transparent acrylic sheets
What is inside the box – An elegant Devi Karumariamman painting
Care Instructions – Clean with soft non abrasive cloth.
Dimension – 32cm*6cm*37cm (L*B*H)
Weight – 3500grams
Discover Uniqueness ! Trogons products render beauty to the lives of customers by giving them unique & attractive choices. Hit "Like" to explore and follow our exciting journey on Facebook.