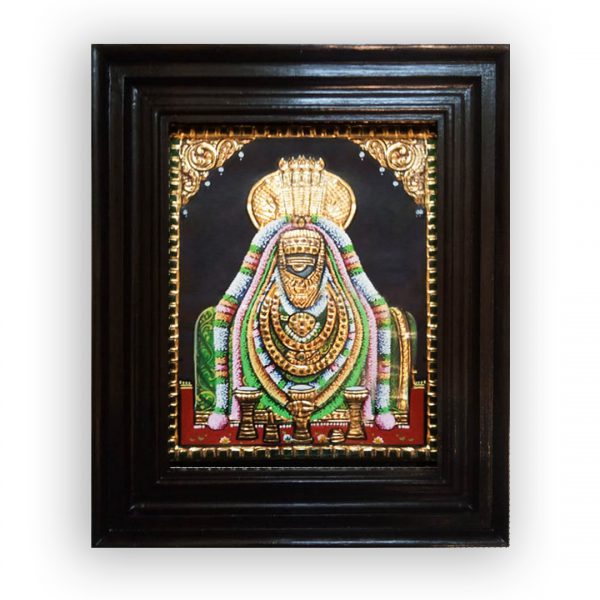 Tanjore painting Annamalaiyar
₹6,499 – ₹19,899
Inclusive of all taxes.
Free shipping on all orders above ₹499.
A glorious traditional Tanjore painting of Annamalaiyar. Annamalaiyar Temple is a Hindu temple dedicated to the deity Shiva that is located at the base of Arunachal hill in the town of Tiruvannamalai in Tamil Nadu. Every inch of the painting is excellently taken care of by our skilled artisans. Tha painting carries glory, long-lasting beauty, and charm with it wherever it goes. And it adds grace to the surroundings it is placed.

Usually delivered within 9-20 working days
Independence day sale ! Get 15% off on all products. Use code ' Freedom ' on min spend of Rs 499.
Get Rs500 off on shopping of Rs 4000 & above . Use coupon code "TROGONS500"
10 % instant discount for all new users . Use coupon code "TROGONS" on min spend of Rs499
Description
Shiva is worshipped as Arunachalesvara or Annamalaiyar. Devotees mostly know Shiva as Arunachalesvara or Annamalaiyar. Annamalaiyar temple positioned in the town of Tiruvannamalai Tamil Nadu is the largest temple dedication ever done to Lord Shiva. This temple has a history that crawls back to a thousand years. It is said that Tiruvannamalai is the capital of Saivism. Saivism is a significant tradition in Hinduism which is set for revering Lord Shiva as the supreme being. The holy hill itself is the deity in this place.
Annmalaiyar temple is an eye-feast to all its? devotees. So this painting is totally worth-buying and it definitely complements your wall in the pooja room. It is covered with a durable and fragrant Chettinad teak wood frame. A water-resistant plywood base is employed so do not bother and make a mess when there is any spill-over of water. The painting has been designed with water-soluble colors which sprinkled reality all over. The 22-carat gold foil used is embedded with semi-precious stones and zircon stones which makes the painting elegant. The acrylic glass brought in is unbreakable. The base is coated with the finest grade chalk powder and natural Arabic gum Gondhu.
Grab the glory and make your home glorious!
Variants
Available in 4 different sizes
Product Specification
Primary Material – 22 K Gold foil handpainted art on waterproof plywood , semiprecious stone and zircon stone work, chettinad teak wood frame with good quality transparent acrylic sheets
What is inside the box – An elegant Annamalaiyar painting
Care Instructions – Clean with soft non abrasive cloth.
Variant 1 – Dimension – 8.5in*2.5in*10.5in (L*B*H) Weight 2500 grams
Variant 2 – Dimension – 12.5in*2.5in*14.5in (L*B*H) Weight 3000 grams
Variant 3 – Dimension – 14.5in*2.5in*17.5in (L*B*H) Weight 3500 grams
Variant 4 – Dimension – 17.5in*2.5in*21.5in (L*B*H) Weight 4000 grams
Dimensions & Weight may vary a little as these are custom made to order
All Dimensions & Weight are Inclusive of Frame
For customization kindly contact our customer care
Discover Uniqueness ! Trogons products render beauty to the lives of customers by giving them unique & attractive choices. Hit "Like" to explore and follow our exciting journey on Facebook.