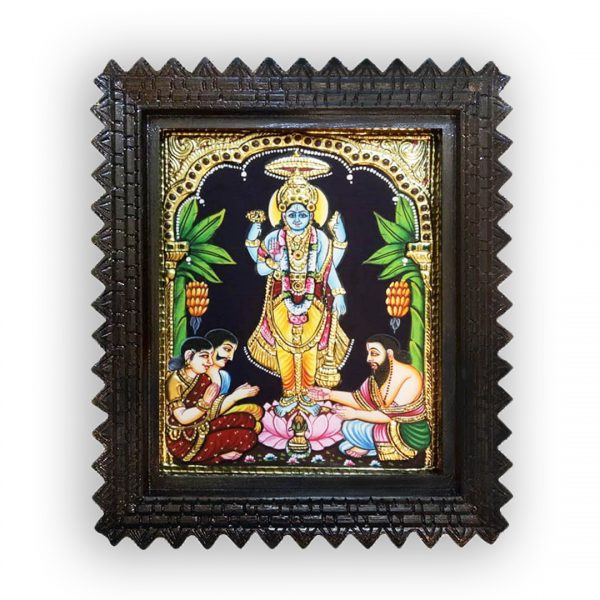 Tanjore painting Satyanarayan
₹9,899 – ₹19,899
Inclusive of all taxes.
Free shipping on all orders above ₹499.
Lord Satyanarayan is the manifestation of Shri Vishnu. He is also known as Narayan. The name Satyanarayan implies that ?The highest being who is an embodiment of truth?, where ?Satya? means ?truth? and ?Narayana? means ?the highest being?. God Satyanarayan represents truth and truth alone. The painting is designed in such a way that it complements the glory of the god and established to not let it down. Splendour is incorporated by the gold foil border and reality and uniqueness is sprinkled by water-soluble colors and many more.

Usually delivered within 9-20 working days
Get Rs500 off on shopping of Rs 4000 & above . Use coupon code "TROGONS500"
10 % instant discount for all new users . Use coupon code "TROGONS" on min spend of Rs499
Get 15% off this Diwali on all products. Use code ' Diwali2022 ' on min spend of Rs 499.
Description
Lord Satyanarayan, the embodiment of truth is one of the five vyuhas of Lord Shri Vishnu. The predominant and famous events following the worship of Lord Satyanarayan is Satyanarayan Pooja. Satyanarayan Pooja is religious worship executed in reverence to Lord Satyanarayan in the form of Lord Shri Vishnu. This pooja is performed for the existence of abundance, health, wealth, prosperity, opulence, education, and relief from troubles in one?s life. Anyone can do this pooja and even alone. This ritual is performed by people who are having an important occasion such as marriage, house warming, etc.
Satyanarayan Pooja is a compulsory event after every new occasion in people?s lives. This painting of Lord Satyanarayana is elegantly constructed with a durable and fragrant Chettinad teak wood frame. The compilation of water-soluble colors is used for beauty. A water-resistant plywood base is employed and the finest and number one grade of chalk powder and natural Arabic gum Gondhu has involved for coating. Eminence falls in place because of the 22-carat gold foil embedded with semi-precious stones and zircon stones. To ensure safety and warranty unbreakable acrylic glass is used. The finishings are sharp and smooth. Lay your hands on this amazing painting before you regret missing it.
Variants
Available in 3 different sizes
Product Specification
Primary Material – 22 K Gold foil handpainted art on waterproof plywood , semiprecious stone and zircon stone work, chettinad teak wood frame with good quality transparent acrylic sheets
What is inside the box – An elegant Satyanarayan painting
Care Instructions – Clean with soft non abrasive cloth.
Variant 1 – Dimension – 12.5in*2.5in*14.5in (L*B*H) Weight 3000 grams
Variant 2 – Dimension – 14.5in*2.5in*17.5in (L*B*H) Weight 3500 grams
Variant 3 – Dimension – 17.5in*2.5in*21.5in (L*B*H) Weight 4000 grams
Dimensions & Weight may vary a little as these are custom made to order
All Dimensions & Weight are Inclusive of Frame
For customization kindly contact our customer care
Discover Uniqueness ! Trogons products render beauty to the lives of customers by giving them unique & attractive choices. Hit "Like" to explore and follow our exciting journey on Facebook.