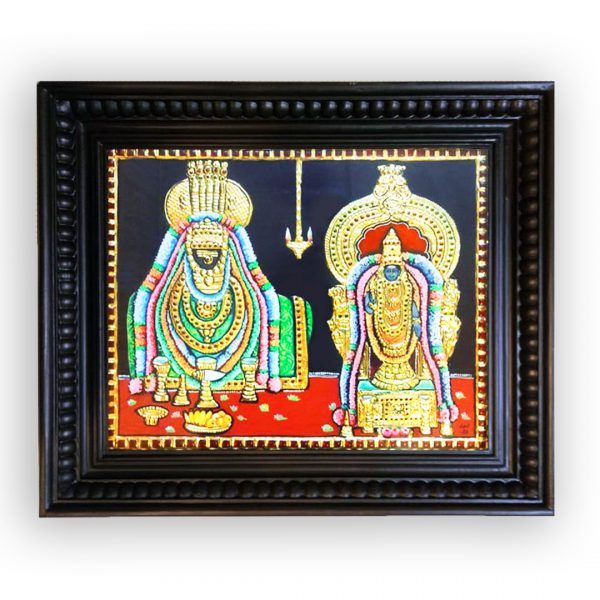 Tanjore painting Annamalaiyar and Unnamalai amman
₹12,899 – ₹19,899
Inclusive of all taxes.
Free shipping on all orders above ₹499.
Are you a fan of tradition and art? Do you like a touch of artistic decor to your house? Then this is the right place for you. Plunge into these traditional and artistic paintings of Tanjore at Trogons. This tanjore painting of Sri Annamalaiyar Unnamalai Amman captures the beauty of our traditions and culture in a single frame. This hand painted portrait of Sri Annamalaiyar Unnamalai Amman will brighten up any background in your interior. Buy this beautiful tanjore painting of Sri Annamalaiyar Unnamalai Amman now !

Usually delivered within 9-20 working days
Get Rs500 off on shopping of Rs 4000 & above . Use coupon code "TROGONS500"
10 % instant discount for all new users . Use coupon code "TROGONS" on min spend of Rs499
Description
Thanjavur paintings also known as Tanjore paintings are beautiful, bright colored paintings that bless our eyes with its rich culture and tradition. These paintings are tracked back to a small town in Tamil Nadu, Thanjavur from the 1600AD. The Tanjore paintings are embossed of rich gold embellishments, precious gems and expressive colors that make them rich in tradition and culture. The Tanjore paintings are usually surrounded around gods and goddesses, and sometimes involve the secular elements of nature. This tanjore painting of Sri Annamalaiyar Unnamalai Amman captured in this beautiful frame made of waterproof base, coated with fine quality no.1 grade chalk powder along with natural gum Gondhu (Arabic gum).
The elegant frame of Sri Annamalaiyar Unnamalai Amman with bright and vivid colors, is yours with just a click away. This frame representing Sri Annamalaiyar Unnamalai Amman also known as Shiva in the form of lingam along with his consort Parvati also known as Ardhanarishvara are the ideal couple.
This handmade painting uses 100% soluble colors with 22ct gold foil embellishment and bright color to catch anyone's attraction. Goddess parvati in this frame shines brightly beside lord shiva, where the god and goddess are embellished with grand garlands and ornaments.
This tanjore painting of Sri Annamalaiyar Unnamalai Amman comes with a frame of traditional teak wood and unbreakable acrylic glass to avoid damages during transportation, it is also decorated with semi precious stone from Jaipur including zircon stone work that will connect your space with culture and tradition of the town in Tamil Nadu, Thanjavur. Buy for yourself or gift your loved ones this gorgeous painting of Sri Annamalaiyar unnamalai amman that fits into any room, any style and all occasions.
Variants
Available in 2 different sizes
Product Specification
Primary Material – 22 K Gold foil handpainted art on waterproof plywood , semiprecious stone and zircon stone work, chettinad teak wood frame with good quality transparent acrylic sheets
What is inside the box – An elegant Annamalaiyar and Unnamalai amman painting
Care Instructions – Clean with soft non abrasive cloth.
Variant 1 – Dimension – 17.5in*2.5in*14.5in (L*B*H) Weight 3500 grams
Variant 2 – Dimension – 21.5in*2.5in*17.5in (L*B*H) Weight 4000 grams
Dimensions & Weight may vary a little as these are custom made to order
All Dimensions & Weight are Inclusive of Frame
For customization kindly contact our customer care
Discover Uniqueness ! Trogons products render beauty to the lives of customers by giving them unique & attractive choices. Hit "Like" to explore and follow our exciting journey on Facebook.