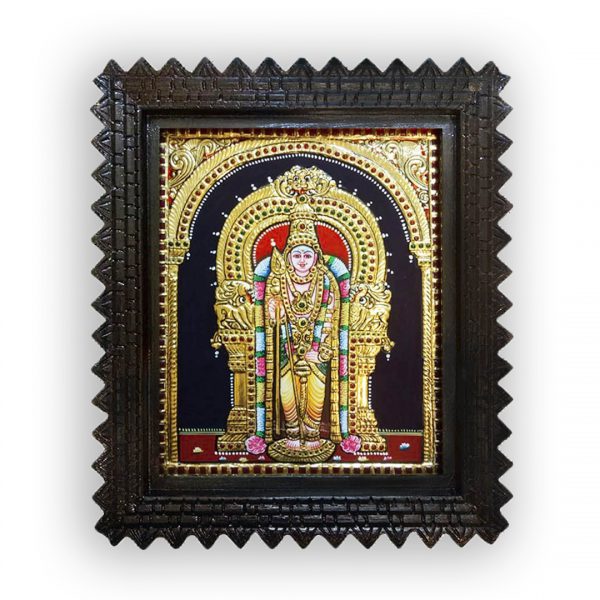 Tanjore painting Lord Murugan
₹9,899 – ₹19,899
Inclusive of all taxes.
Free shipping on all orders above ₹499.
Karthikeya or lord Muruga is an ancient god, traceable to vedic era. He goes by many names, skanda, kumara, murugan and subramanya. Kumara is also known as god of war for his bravery and valor. He teaches ethical values, it is also believed that he removes obstacles from one?s life. This hand painted portrait of Murugan is of Thanjavur style. In this portrait murugan looks vibrant in appearance holding his astra in his right hand. Glowing borders of the painting are adorned with a fine touch of 22ct gold foils along with gem stones stuck on it. If you are a lover of our traditions and culture then this can be your go to choice.
Usually delivered within 9-20 working days
Get Rs500 off on shopping of Rs 4000 & above . Use coupon code "TROGONS500"
10 % instant discount for all new users . Use coupon code "TROGONS" on min spend of Rs499
Get 15% off this Diwali on all products. Use code ' Diwali2022 ' on min spend of Rs 499.
Description
Karthikeya, son of shiva known as the god of war, is standing upright and holding a spear in his right hand. He teaches ethical values and is believed to remove obstacles from one's life. The throne in the background is symmetric and crafted well with 22ct gold foils radiating the vibes of positivity and abundance. This 100% hand made Thanjavur style of painting originated in Thanjavur around 17th century AD and has been passed on from one generation to the another. Natural water colors used in the painting brings the painting to life. Special gemstones are embedded into these good foils with Arabic gum (gondhu) remains intact to the painting and adorn it.
This Glowing painting attracts people and blesses them with divine joy deep within. A thin Acrylic sheet runs all over the painting maintaining the transparency. It is framed with a fine cut Teak wood from Chettinad, encloses the painting of Karthikeya and preserves it by avoiding damage .The frame can be replaced with the choice of yours. It perfectly hangs on the walls or can be kept in a pooja room and decorates your interiors with artistic touch and history. Bring this painting and illuminate your beautiful Abodes with divine vibes. Grab this painting and immerse yourself in the bhakthi towards the god and receive love and blessings from the lord who removes evils, Muruga. Do visit us again.
Variants
Available in 3 different sizes
Product Specification
Primary Material – 22 K Gold foil handpainted art on waterproof plywood , semiprecious stone and zircon stone work, chettinad teak wood frame with good quality transparent acrylic sheets
What is inside the box – An elegant Lord Murugan painting
Care Instructions – Clean with soft non abrasive cloth.
Variant 1 – Dimension – 12.5in*2.5in*14.5in (L*B*H) Weight 3000 grams
Variant 2 – Dimension – 14.5in*2.5in*17.5in (L*B*H) Weight 3500 grams
Variant 3 – Dimension – 17.5in*2.5in*21.5in (L*B*H) Weight 4000 grams
Dimensions & Weight may vary a little as these are custom made to order
All Dimensions & Weight are Inclusive of Frame
For customization kindly contact our customer care
Discover Uniqueness ! Trogons products render beauty to the lives of customers by giving them unique & attractive choices. Hit "Like" to explore and follow our exciting journey on Facebook.