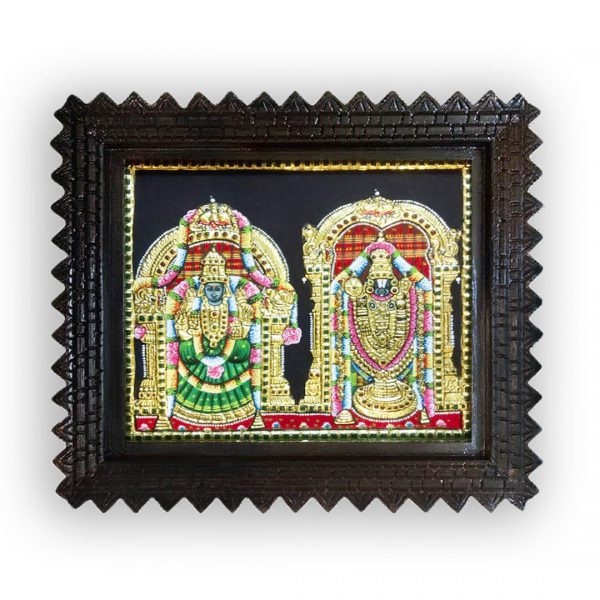 Balaji Lakshmi Devi Tanjore Painting
₹9,899 – ₹19,899
Inclusive of all taxes.
Free shipping on all orders above ₹499.
The highness, the great Tirupati Balaji, and Padmavathi Devi?s portrait are what we are having in the lead now. Tirupati Balaji is the Venkateswara and the avatar of Vishnu is the presiding deity of Tirupati temple. Padmavati Devi is the consort of Tirupati Balaji who is Sri Venkateswara. Padmavati Devi is an avatar of Goddess Lakshmi and is a Hindu Devi. Padmavati Devi is also known as ?Alamelu Manga?. So this royal painting of both is bordered with royal 22-carat gold foil and embedded with semi-precious stones and zircon stones. The painting is ravishingly designed to enhance the glory of Tirupati Balaji and Padmavathi Devi.
Get the painting home, so that it would help in enhancing the glory of the surroundings.
Usually delivered within 9-20 working days
Get Rs500 off on shopping of Rs 4000 & above . Use coupon code "TROGONS500"
10 % instant discount for all new users . Use coupon code "TROGONS" on min spend of Rs499
Get 15% off this Diwali on all products. Use code ' Diwali2022 ' on min spend of Rs 499.
Description
Sri Venkateswara Swamy Vaari Temple is the most famous Hindu temple, which is positioned in the hill town of Tirumala at Tirupathi in Chittoor District. The temple is dedicated to Sri Venkateswara who is the avatar of Vishnu. If we observe keenly, we will find that the Tirupati Balaji eyes are closed. Some people are aware of this, but some are not. His eyes remain closed because it is said that the devotees cannot withstand the radiance emanating from the eyes of the Lord. But this is exceptional for Thursdays because it is believed when the size of the white mark is relatively smaller enabling the devotees? glimpse at the Lord?s eyes to an extent.
Padmavathi Devi, also known as Alamelu Manga is the consort of Lord Sri Venkateswara. This traditional Tanjore painting of them is tremendously furnished by our skilled artisans with Chettinad teak wood and a water-resistant plywood base coated with the finest grade chalk powder and natural gum. It is enclosed with an unbreakable acrylic glass.
This Balaji Lakshmi Tanjore Painting can be a great addition to your pooja room and your house, grab it, and enjoy the solace and cheer of the divinity.
Variants
Available in 3 different sizes
Product Specification
Primary Material – 22 K Gold foil handpainted art on waterproof plywood , semiprecious stone and zircon stone work, chettinad teak wood frame with good quality transparent acrylic sheets
What is inside the box – An elegant Tirupati Balaji and Padmavathi devipainting
Care Instructions – Clean with soft non abrasive cloth.
Variant 1 – Dimension – 14.5in*2.5in*12.5in (L*B*H) Weight 3000 grams
Variant 2 – Dimension – 17.5in*2.5in*14.5in (L*B*H) Weight 3500 grams
Variant 3 – Dimension – 21.5in*2.5in*17.5in (L*B*H) Weight 4000 grams
Dimensions & Weight may vary a little as these are custom made to order
All Dimensions & Weight are Inclusive of Frame
For customization kindly contact our customer care
Discover Uniqueness ! Trogons products render beauty to the lives of customers by giving them unique & attractive choices. Hit "Like" to explore and follow our exciting journey on Facebook.