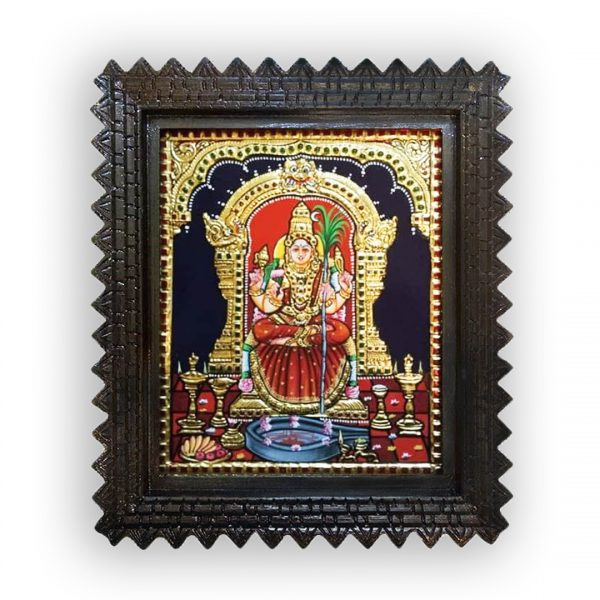 Tanjore painting Goddess Kamakshi Amman
₹7,899
Inclusive of all taxes.
Free shipping on all orders above ₹499.
A marvelous traditional Tanjore painting of Goddess Kamakshi Amman, excellently fabricated with first-rate materials. Kamakshi is a Sanskrit word where ?Ka means Devi Saraswati? and ?Ma means Devi Lakshmi?, and ?Akshi means eyes?. So in total, Kamakshi means the one who has Devi Saraswati and Devi Lakshmi in her eyes. This painting has been beautifully structured by our skilled artisans. The border, frame, materials used will flawlessly complement the glory of Goddess Kamakshi and it enhances too.

In Stock
Usually delivered within 6-9 working days
Get Rs500 off on shopping of Rs 4000 & above . Use coupon code "TROGONS500"
10 % instant discount for all new users . Use coupon code "TROGONS" on min spend of Rs499
Description
Goddess Kamakshi Amman is believed to be the incarnation of Parvati. Goddess Kamakshi is the Hindu fertility Goddess. The Kamakshi temple which is located in the historic city of Kanchipuram near Chennai is dedicated to Goddess Kamakshi. Goddess Kamakshi is the ultimate form of Lalitha Maha Tripurasundari (Parvati). The temple is royal and beautiful and has gopurams with gold overlays. The Goddess Kamakshi prevails in the form of Shakti. The special festivals for Goddess Kamakshi are Navaratri, Bramhotsavam, and Pournami. It is believed that the Goddess Kamakshi is distinctively powerful these days. Devotees go and visit Goddess in more numbers these days, believing it is auspicious.
Our skilled and talented artisans have their hands on this painting, it is purely handmade with beautiful water-soluble colors. This handmade painting of Goddess Kamakshi is framed with an amazing Chettinad teak wood frame which is highly durable and sprinkles fragrance. The plywood base is water-resistant and is coated with the finest grade chalk powder and natural Arabic gum Gondhu. A 22-carat gold foil that is embedded with semi-precious and zircon stones is used for the border. Unbreakable acrylic glass is employed for safety and warranty. This piece adds long-lasting beauty to wherever it is placed.
Product Specification
Primary Material – 22 K Gold foil handpainted art on waterproof plywood , semiprecious stone and zircon stone work, chettinad teak wood frame with good quality transparent acrylic sheets
What is inside the box – An elegant Kamakshi Devi painting
Care Instructions – Clean with soft non abrasive cloth.
Dimension – 32cm*6cm*37cm (L*B*H)
Weight – 3500grams
Discover Uniqueness ! Trogons products render beauty to the lives of customers by giving them unique & attractive choices. Hit "Like" to explore and follow our exciting journey on Facebook.