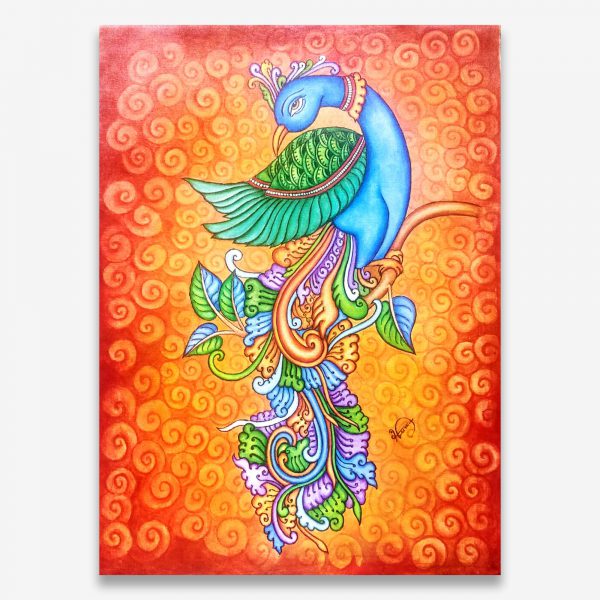 Peacock painting – Kerala mural art
₹2,379
Inclusive of all taxes.
Free shipping on all orders above ₹499.
This magnificent and eye catchy portrait of peacock that is sure to add color to your space. Grab this bright mural painting of peacock and watch it grab everyone's attention. The peacocks are the most beautiful birds and so is this mural painting. The mural painting tracks back from rock paintings of Anjanad Valley of Idukki district in Kerala. But they are presented to you in the most modern form with acrylic paints and canvas. The artist has used bright and vivid colors that capture everyone's attention. This would be a perfect home decor on a light painted wall or even a perfect gift to your family friends to make the occasions extra special. Grab this piece now and let your interior flaunt the vibes of spirituality, integrity and freedom.
Hurry ! only 1 left
Usually delivered within 5-9 working days
Independence day sale ! Get 15% off on all products. Use code ' Freedom ' on min spend of Rs 499.
Get Rs500 off on shopping of Rs 4000 & above . Use coupon code "TROGONS500"
10 % instant discount for all new users . Use coupon code "TROGONS" on min spend of Rs499
Description
Are you an enthusiast of art and culture? Are you looking for magnificent home decor? Then this Kerala mural painting of peacock is just for you. The Kerala mural paintings stand out for their prominence in beauty, clarity and symmetry. The peculiarity of these murals is the simple and thematic representation of human, animals and trees with technical excellence, illustrated with rich and delicate strokes hued with bright colours. The traditional murals are made of Panchavarna colours and white prepared from herbal dyes, fruit juices, stones and roots. Bamboo sticks are used for outlining and tree roots used as brush. But now this painting has been updated to canvas and acrylic paints keeping intact the culture of the mural art form. The colours are usually prepared in diluted form and painted, beginning with lighter shades from yellow, red, green, blue and brown (mixture of red and yellow). white is used for prevailing white spaces which are retained during the initial coating. The colors added give life to the portrait which make it more elegant. Grab this beautiful and elegant painting of a peacock that signifies vision, self expression, spirituality, awakening, integrity, freedom, guidance, protection, & watchfulness to transform your space completely with only and only positive vibes. Buy this mural peacock painting which is perfect for office and home decor. Not only can you buy this yourself but can choose it as a gifting option to your family and friends to make it special to them. Grab now and watch it flaunt the interiors of your space with style.
Product Specification
Primary Material – Acrylic paints, Canvas sheet
What is inside the box – One Kerala mural painting
Care Instructions – Clean with soft cloth.
Dimension – 30cm*42cm(L*H)
Discover Uniqueness ! Trogons products render beauty to the lives of customers by giving them unique & attractive choices. Hit "Like" to explore and follow our exciting journey on Facebook.