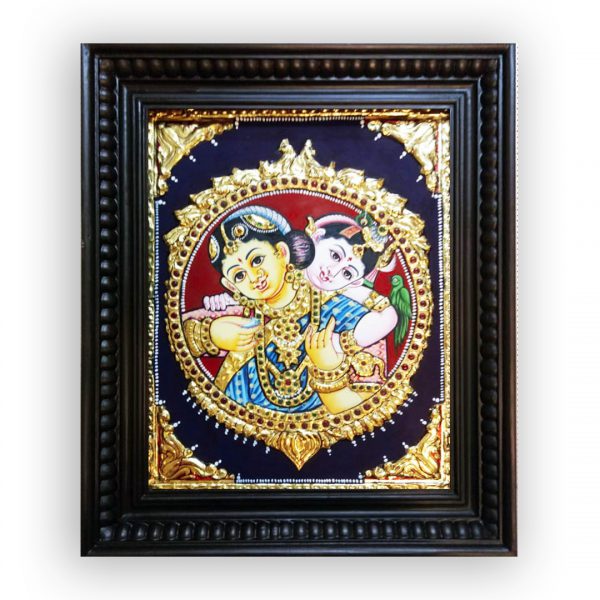 Tanjore painting Bal gopal with Yashoda maiyyaa
₹9,899 – ₹19,899
Inclusive of all taxes.
Free shipping on all orders above ₹499.
An adorable traditional Tanjore painting of Bal Gopal and Yashoda Maiya. Bal Gopal is the infant form of Lord Krishna. Gopal or Gopala is the name for the Child Krishna. Gopala means ?cowherd?. For Hindus, the cow is a holy animal, it is seen as a symbol of earth. It gives us so much and expects very little in return. This Adorable painting has given a royal look by the majestic 22-carat gold foil. The painting is cute, royal, and stupefying.

Usually delivered within 9-20 working days
Get Rs500 off on shopping of Rs 4000 & above . Use coupon code "TROGONS500"
10 % instant discount for all new users . Use coupon code "TROGONS" on min spend of Rs499
Get 15% off this Diwali on all products. Use code ' Diwali2022 ' on min spend of Rs 499.
Description
Yashoda Maiya and Bal Gopal shared an admirable and the most adored mother-son relationship. It symbolizes and shows the world what true love is. Yashoda Maiya?s enigmatic love for her son Krishna( Bal Gopal) has inspired many works of art. Sri Krishna was born to Devaki and Vasudeva but raised and by Nanda and Yashoda. That makes Yashoda an innate part of Bal Gopal?s childhood lilas and also the one who witnessed them mostly. The relationship shared between them is truly appreciable.
This painting of Bal Gopal and Yashoda Maiya is exceptionally fabricated by our skilled artisans with their own hands. A durable Chettinad teak wood frame is used, and a water-resistant plywood base to avoid the mess caused by water spillings, the finest grade of chalk powder is used for coating and the natural Arabic gum Gondhu is used in the coating. The gold foil used is 22-carat and is embedded with semi-precious stones and zircon stones which is a sign of more glory. The painting s done with water-soluble colors sprinkling reality in it. Unbreakable acrylic glass is used which is smart. Everything involved in this painting is just trust-worthy and aesthetic.
It is said that bringing home Bal Gopal is bringing spirituality, wellness, harmony, good luck, peace, etc. So why should you miss all these? Just pick this captivating painting and place it in your house asap.
Variants
Available in 3 different sizes
Product Specification
Primary Material – 22 K Gold foil handpainted art on waterproof plywood , semiprecious stone and zircon stone work, chettinad teak wood frame with good quality transparent acrylic sheets
What is inside the box – An elegant Bal gopal with Yashoda painting
Care Instructions – Clean with soft non abrasive cloth.
Variant 1 – Dimension – 12.5in*2.5in*14.5in (L*B*H) Weight 3000 grams
Variant 2 – Dimension – 14.5in*2.5in*17.5in (L*B*H) Weight 3500 grams
Variant 3 – Dimension – 17.5in*2.5in*21.5in (L*B*H) Weight 4000 grams
Dimensions & Weight may vary a little as these are custom made to order
All Dimensions & Weight are Inclusive of Frame
For customization kindly contact our customer care
Discover Uniqueness ! Trogons products render beauty to the lives of customers by giving them unique & attractive choices. Hit "Like" to explore and follow our exciting journey on Facebook.