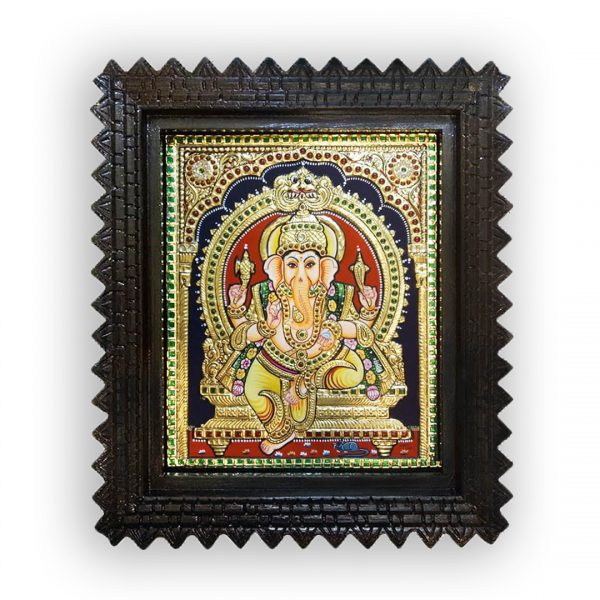 Tanjore painting Vinayagar/Ganesha
₹12,899 – ₹19,899
Inclusive of all taxes.
Free shipping on all orders above ₹499.
Lord Ganesha is the most worshipped and dearest of all the hindu deities. He symbolizes knowledge, strength, life and he is also known as the destroyer of obstacles. As the god of beginnings, he is honored at the start of rit's and ceremonies. Artists from Thanjavur have beautifully crafted the lord?s portrait and gave life to it. This painting will give a perfect cultural touch to your interiors and can be hung on any wall, your rooms, kitchen, business places or even pooja rooms. So grab this beautiful painting of lord and grace your home with his blessings. There are similar antique pieces of history available on our online TROGON website.

Usually delivered within 9-20 working days
Get Rs500 off on shopping of Rs 4000 & above . Use coupon code "TROGONS500"
10 % instant discount for all new users . Use coupon code "TROGONS" on min spend of Rs499
Get 15% off this Diwali on all products. Use code ' Diwali2022 ' on min spend of Rs 499.
Description
Thanjavur paintings also known as tanjore paintings are well known and admired by people all around the world for their artistic beauty and uniqueness. Colors, gemstones, sketches and frames are elegant in their own way and yet remain unique. The Thanjavur style of paintings trace back to 1600 AD and still remains one of the most admired styles. These paintings portray history, epics, god-goddesses, culture and Heritage. This painting is one such artefact sketching of hindhu god Lord Ganesha, painted very well and adorned with gems. Lord Ganesha is known as ganapati, vinayaka and vigna vinashaka, is one of the best known and most worshipped deities in the hindhu pantheon. Although he is known by many attributes, his head makes him identify. Ganesha is also known as a remover of obstacles, the patron of all arts and sciences and the deva of intellect and wisdom.
As the god of beginnings, he is honored at the start of rites and ceremonies. Children, women, men, young boys and girls, and elderly pray to him to guide them in all walks of life and bless them with good fortune. Children seek him with utmost devotion to bless them with joy, success and guidance. Painting with 22ct gold embellishments, is enclosed within a frame made of chettinad teak wood, making it durable and strong. The frame can be interchangeable with any other type of wood still preserving the beauty of painting. Grab this wonderful portrait of Ganesha of Tanjore style and decorate your home with vibes of divinity, peace, harmony and bliss. Be a true admirer of art and history.
Variants
Available in 2 different sizes
Product Specification
Primary Material – 22 K Gold foil handpainted art on waterproof plywood , semiprecious stone and zircon stone work, chettinad teak wood frame with good quality transparent acrylic sheets
What is inside the box – An elegant Lord Ganesha painting
Care Instructions – Clean with soft non abrasive cloth.
Variant 1 – Dimension – 14.5in*2.5in*17.5in (L*B*H) Weight 3500 grams
Variant 2 – Dimension – 17.5in*2.5in*21.5in (L*B*H) Weight 4000 grams
Dimensions & Weight may vary a little as these are custom made to order
All Dimensions & Weight are Inclusive of Frame
For customization kindly contact our customer care
Discover Uniqueness ! Trogons products render beauty to the lives of customers by giving them unique & attractive choices. Hit "Like" to explore and follow our exciting journey on Facebook.