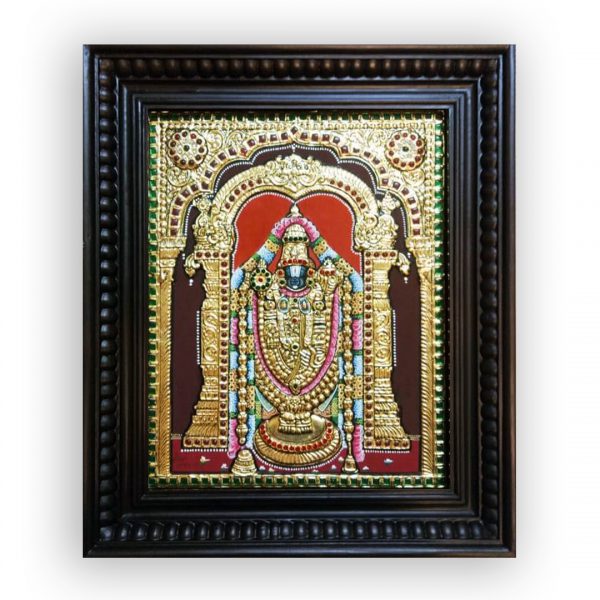 Tanjore painting Tirupati Balaji
₹12,899 – ₹19,899
Inclusive of all taxes.
Free shipping on all orders above ₹499.
A beautifully fabricated Tanjore painting with top-notch quality material of Tirupati Balaji. Every material used in the process of preparation is undoubtedly great. Tirupati Balaji is the Venkateswara and the avatar of Vishnu is the presiding deity of Tirupati temple. The painting has been taken care of by our skilled artisans throughout, it is handmade which adds value, water-soluble colors were used which adds reality, and gold foil is used which adds glory. Every inch of this painting has my heart.
Usually delivered within 9-20 working days
Independence day sale ! Get 15% off on all products. Use code ' Freedom ' on min spend of Rs 499.
Get Rs500 off on shopping of Rs 4000 & above . Use coupon code "TROGONS500"
10 % instant discount for all new users . Use coupon code "TROGONS" on min spend of Rs499
Description
Tirupati Balaji is an avatar of Lord Vishnu and known as Lord Venkateswara. The Venkateswara temple in Tirupati is dedicated to Tirupati Balaji. The temple is world-famous, and the devotees visiting the temple to worship God are innumerous. The Tirupati Balaji temple is rightly called the Bhuloka Vaikuntam. It is the abode of Lord Vishnu on earth. It is said that God has directed his devotees towards salvation during trials and obstacles. The glory and radiation illuminating from his eyes cannot be tolerated by our eyes, that is why Tirupati Balaji?s? eyes remain closed as we cannot hold the powerful radiation emanating. There is an exception for Thursdays as it is said that the size of the watermark is relatively smaller which allows the devotees a glimpse at the Lord?s eyes to an extent.
Coming to the features of the painting, it cannot be blemished by water because a water-resistant plywood base is used. Do not worry if your kids are playing with strong and dangerous items inside the house because unbreakable acrylic glass is used for safety and warranty. The majestic 22-carat gold foil is embedded with semi-precious and zircon stones. The finest grade of chalk powder and natural gum is used for coating.
Grabbing this painting is nothing but grabbing the glory, hurry up!
Variants
Available in 2 different sizes
Product Specification
Primary Material – 22 K Gold foil handpainted art on waterproof plywood , semiprecious stone and zircon stone work, chettinad teak wood frame with good quality transparent acrylic sheets
What is inside the box – An elegant Tirupati Balaji painting
Care Instructions – Clean with soft non abrasive cloth.
Variant 1 – Dimension – 14.5in*2.5in*17.5in (L*B*H) Weight 3500 grams
Variant 2 – Dimension – 17.5in*2.5in*21.5in (L*B*H) Weight 4000 grams
Dimensions & Weight may vary a little as these are custom made to order
All Dimensions & Weight are Inclusive of Frame
For customization kindly contact our customer care
Discover Uniqueness ! Trogons products render beauty to the lives of customers by giving them unique & attractive choices. Hit "Like" to explore and follow our exciting journey on Facebook.