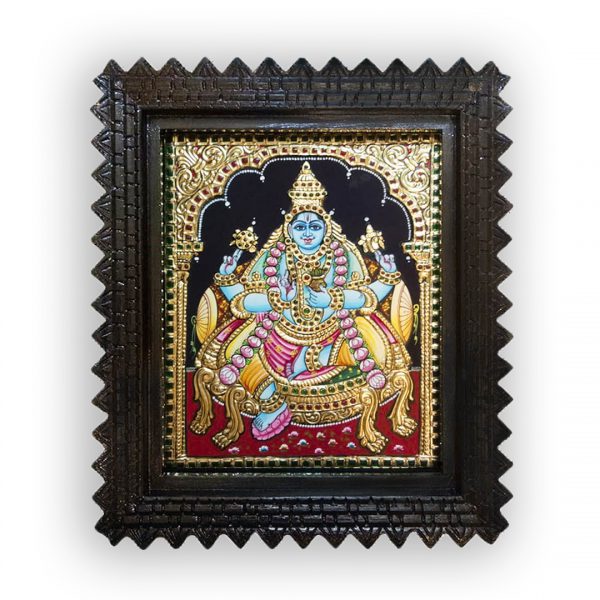 Tanjore painting Dhanvantri bhagawan
₹9,899 – ₹19,899
Inclusive of all taxes.
Free shipping on all orders above ₹499.
If you are a lover of traditions and culture, then this painting from Thanjavur is for you. Tanjore style of paintings are passed on from one generation to another and still admired for their beauty and uniqueness. Artists have handcrafted these paintings using water soluble colors and framed them with a special wood from chettinad. Zircon stones were embedded along the borders of the sketch bringing the whole painting to life. Grab this traditional and cultural artefact tracing back to 1600AD and glorify the history and culture of South India. It perfectly decorates your interiors and creates a great balance between present and past traditions. There are many more such artefacts on our website.
Usually delivered within 9-20 working days
Independence day sale ! Get 15% off on all products. Use code ' Freedom ' on min spend of Rs 499.
Get Rs500 off on shopping of Rs 4000 & above . Use coupon code "TROGONS500"
10 % instant discount for all new users . Use coupon code "TROGONS" on min spend of Rs499
Description
Want to fill your homes with artistic decor? Then here is such a piece from History from Thanjavur. This particular collection of paintings are crafted well by the artists from Thanjavur and referred as Thanjavur paintings of tanjore paintings. The hand painted Dhanwantari bhagawan is sitting in a semi lotus position on a beautiful throne. The paintings have many attributes added to it. Her ornaments, throne, Astras, mantap are all crafted with 22karat gold foils symbolising abundance and positivity. The whole painting looks elegant and lifts the spirit and blesses your eyes with joy. Thanjavur style of paintings is well admired and decorated all over the world. They have been present over 4 centuries and still remain unique and well admired. Fine cut zircon stones from Jaipur are embedded into the gold foils with arbic gum keeps them intact and glorifies it.
The painting is well framed with Teak wood from chettinad, protecting it from damage and preserving the painting for longer times. This painting can be hung on any walls and perfectly decorates your interiors. Buy this artefact from Trogons and illuminate your humble Abodes with artistic value, history and divine vibes. Trogons have similar kinds of artefacts which are breathtaking and holding high artistic value.
Variants
Available in 3 different sizes
Product Specification
Primary Material – 22 K Gold foil handpainted art on waterproof plywood , semiprecious stone and zircon stone work, chettinad teak wood frame with good quality transparent acrylic sheets
What is inside the box – An elegant Dhanvantri bhagawan painting
Care Instructions – Clean with soft non abrasive cloth.
Variant 1 – Dimension – 12.5in*2.5in*14.5in (L*B*H) Weight 3000 grams
Variant 2 – Dimension – 14.5in*2.5in*17.5in (L*B*H) Weight 3500 grams
Variant 3 – Dimension – 17.5in*2.5in*21.5in (L*B*H) Weight 4000 grams
Dimensions & Weight may vary a little as these are custom made to order
All Dimensions & Weight are Inclusive of Frame
For customization kindly contact our customer care
Discover Uniqueness ! Trogons products render beauty to the lives of customers by giving them unique & attractive choices. Hit "Like" to explore and follow our exciting journey on Facebook.