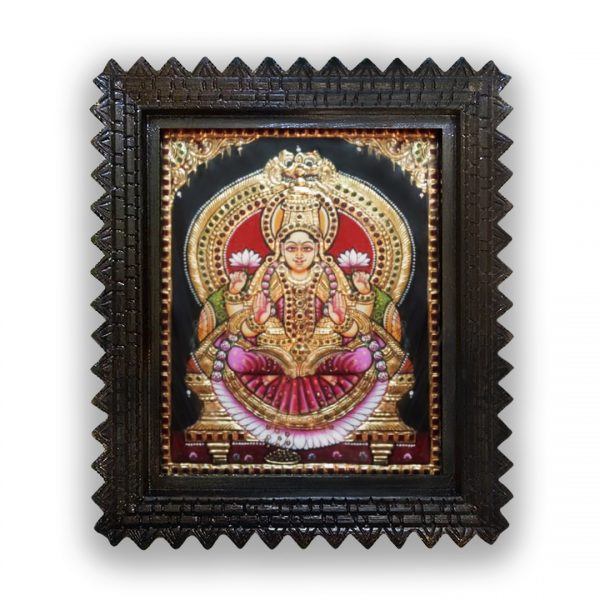 Tanjore painting Aishwarya lakshmi
₹9,899 – ₹19,899
Inclusive of all taxes.
Free shipping on all orders above ₹499.
A traditional Tanjore painting of Aishwarya Lakshmi, with an elite group of materials. Aishwarya lakshmi means Prosperity Laksmi, which is nothing but wealth. Aishwarya Lakshmi is an avatar of Goddess Lakshmi, and is known as Goddess of riches. The painting has been very-well taken care of our dexterous and skilled artisans. Every inch of the painting is flawless where frame, plywood base, glass, colors, and border are employed with majestic and superior quality of materials.

Usually delivered within 9-20 working days
Get Rs500 off on shopping of Rs 4000 & above . Use coupon code "TROGONS500"
10 % instant discount for all new users . Use coupon code "TROGONS" on min spend of Rs499
Get 15% off this Diwali on all products. Use code ' Diwali2022 ' on min spend of Rs 499.
Description
Goddess Aishwarya lakshmi is an avatar of Goddess Lakshmi, and only avatar who mounts the horse. Goddess Laksmi is the consort of God Vishnu, and is one of the most popular goddesses of Hindu mythology. She is known as the goddess of wealth and purity. Goddess Aishwarya Lakshmi is called the Goddess of riches. Goddess Aishwarya Lakshmi is portrayed as the Goddess with four arms and with lotus flowers in two of her hands, and with varada mudra and abhaya mudra in other two hands. The lotus flower symbolizes wealth and fortune.
Goddess Aishwarya Lakshmi has been beautifully shown in this traditional Tanjore painting. Clearly, it is the hard core efforts of our skilled artisans as the painting is hand made. Our skilled artisans brought in the charm of water-soluble colors to enhance the glory of the painting. The 22-carat gold foil employed is embedded with semi-precious stones and zircon stones. The plywood base is water-resistant and finest grade of chalk powder and natural Arabic gum Gondhu is used. Unbreakable acrylic glass has been involved to avoid chaos. The painting illuminates great radiation and grace of Goddess Aishwarya Lakshmi.
Bring this home and invite wealth and fortune to reside!!
Variants
Available in 3 different sizes
Product Specification
Primary Material – 22 K Gold foil handpainted art on waterproof plywood , semiprecious stone and zircon stone work, chettinad teak wood frame with good quality transparent acrylic sheets
What is inside the box – An elegant Aishwarya lakshmi painting
Care Instructions – Clean with soft non abrasive cloth.
Variant 1 – Dimension – 12.5in*2.5in*14.5in (L*B*H) Weight 3000 grams
Variant 2 – Dimension – 14.5in*2.5in*17.5in (L*B*H) Weight 3500 grams
Variant 3 – Dimension – 17.5in*2.5in*21.5in (L*B*H) Weight 4000 grams
Dimensions & Weight may vary a little as these are custom made to order
All Dimensions & Weight are Inclusive of Frame
For customization kindly contact our customer care
Discover Uniqueness ! Trogons products render beauty to the lives of customers by giving them unique & attractive choices. Hit "Like" to explore and follow our exciting journey on Facebook.