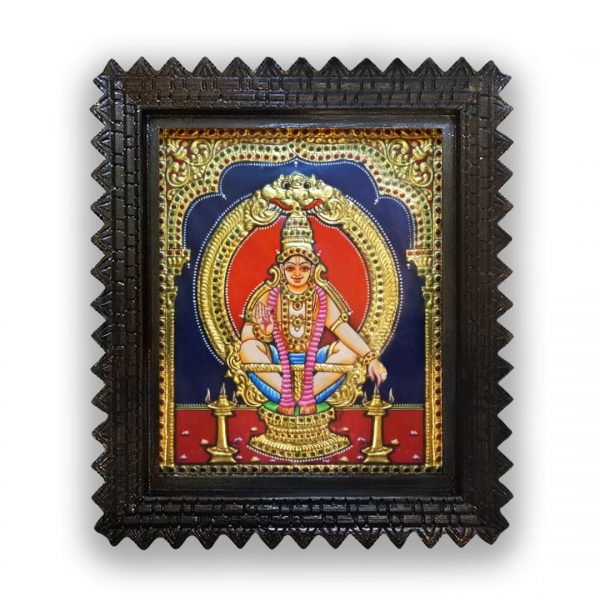 Tanjore painting Ayyappa swami
₹9,899 – ₹19,899
Inclusive of all taxes.
Free shipping on all orders above ₹499.
Lord Ayyappa is a popular Hindu deity in the South Indian state of Kerala. Lord Ayyappa was born with the powers of Shiva and Vishnu to confront and defeat the shape-shifting evil Buffalo demoness Mahishi. The painting of Ayyappa Swami is a typical traditional Tanjore which is coated with the best grade of chalk powder and natural gum Gondhu. The painting is stunningly curated by our skilled artisans. Something like this will be an excellent addition to any house.
Usually delivered within 9-20 working days
Get Rs500 off on shopping of Rs 4000 & above . Use coupon code "TROGONS500"
10 % instant discount for all new users . Use coupon code "TROGONS" on min spend of Rs499
Get 15% off this Diwali on all products. Use code ' Diwali2022 ' on min spend of Rs 499.
Description
This traditional Tanjore painting of Lord Ayyappa is what you are seeing right now. The finishing of the painting holds the grace totally, it is made with the great Chettinad teak wood, which is unbelievably durable and strong. The plywood base is water-resistant, and unbreakable acrylic glass is used for framing the painting. The painting is handmade with water-soluble colors by our talented and skilled artisans. A genuine and pure 22-carat gold foil is used for the border and is enriched with semi-precious stones and zircon stones. Perfect finishings can be seen if you observe, the frame, the glass, the material used for shaping this painting are of top-notch quality.
Lord Ayyappa can be found sitting in a meditating yoga pose. Lord Ayyappa is most popular in the state of Kerala, and there are several temples in Kerala where the presiding deity is Lory Ayyppa. Among all of them, Sabarimala temple is famous. Sabarimala is one of the largest annual pilgrimage sites across the world. This temple is dedicated to the deity Lord Ayyappa. Lord Ayyappa is known and referred to as god of growth.
Grab this charming painting home and discover the uniqueness!
Variants
Available in 3 different sizes
Product Specification
Primary Material – 22 K Gold foil handpainted art on waterproof plywood , semiprecious stone and zircon stone work, chettinad teak wood frame with good quality transparent acrylic sheets
What is inside the box – An elegant Ayyappa swami painting
Care Instructions – Clean with soft non abrasive cloth.
Variant 1 – Dimension – 12.5in*2.5in*14.5in (L*B*H) Weight 3000 grams
Variant 2 – Dimension – 14.5in*2.5in*17.5in (L*B*H) Weight 3500 grams
Variant 3 – Dimension – 17.5in*2.5in*21.5in (L*B*H) Weight 4000 grams
Dimensions & Weight may vary a little as these are custom made to order
All Dimensions & Weight are Inclusive of Frame
For customization kindly contact our customer care
Discover Uniqueness ! Trogons products render beauty to the lives of customers by giving them unique & attractive choices. Hit "Like" to explore and follow our exciting journey on Facebook.