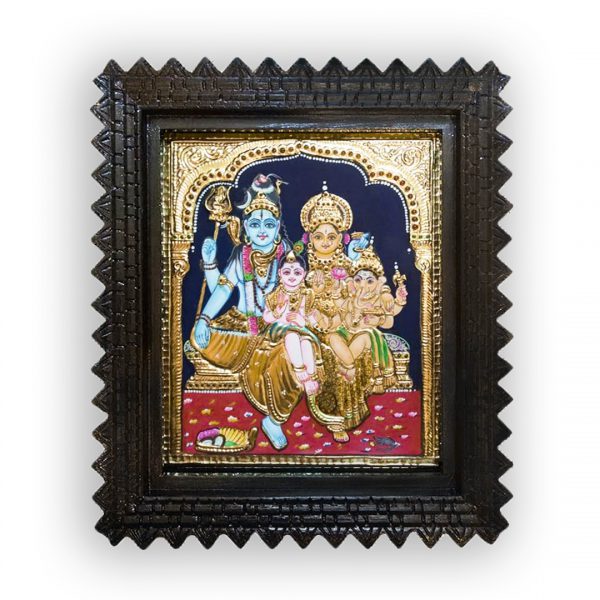 Tanjore painting Lord Shiva with family (Parvathi, Ganpati and Murugan )
₹9,899 – ₹19,899
Inclusive of all taxes.
Free shipping on all orders above ₹499.
Painting is one of the best forms of art and celebrated all over the world. Tanjore style of paintings tracing back to 1600AD are well admired and decorated by many. These paintings are mostly of hindu deities. Here is a portrait of lord shiva (para brahman) and his family. This handmade painting reminds you of the bonding between the members of the family and love. 22ct gold foils are embedded along with fine cut gemstones, giving life to the picture. Painting stays intact within a frame made of special chettinad Teak wood. The frame can be replaced and gives you freedom to choose. Grab this wonderful artefact and fill your beautiful homes with the divine energy of the Parabrahman and Parameshwari and their children Ganesha and Karthikeya.

Usually delivered within 9-20 working days
Get Rs500 off on shopping of Rs 4000 & above . Use coupon code "TROGONS500"
10 % instant discount for all new users . Use coupon code "TROGONS" on min spend of Rs499
Get 15% off this Diwali on all products. Use code ' Diwali2022 ' on min spend of Rs 499.
Description
This unique and elegant painting is called the tanjore painting that is 100% handmade with water soluble colors. The portrait of Shiva with his wife Parvathi and children Ganesha and Kumar Swami is captured in a single frame of traditional teakwood with unbreakable and clear acrylic glass to prevent damages. This handmade painting describes the beauty of the supreme deity Shiva one of the trimurtis, his wife Parvathi who is considered the goddess of fertility, love, beauty, harmony, marriage, children, and devotion, as well as of divine strength and power, with their children lord Ganesh who is widely recognised as the remover of obstacles and the god of beginnings, whom we honor at the beginning of special ceremonies and lord Karthikeya also known as kumar swami the god of war and represented as ever youthful god riding a beautiful peacock.
The painting is embellished with 22ct gold foil to it?s inner border and beautifully depicts the four lords with vivid and bright colors. A portrait conveying a message of parental love of lord Shiva and goddess Parvathi with their sons lord Ganesha and lord Kartikeya. Buy this elegant and refined Tanjore or Thanjavur painting that captures our traditions and culture into a single frame. This painting is not only embellished with pure gold but has zircon stone work done with semi precious stones that come all the way from Jaipur. This will be a perfect gift to your loved ones or even family on special occasions. Not only as a gift but one can purchase this gorgeous tanjore painting that originated from Thanjavur as a part of their decor that goes well with anything and everything.
Variants
Available in 3 different sizes
Product Specification
Primary Material – 22 K Gold foil handpainted art on waterproof plywood , semiprecious stone and zircon stone work, chettinad teak wood frame with good quality transparent acrylic sheets
What is inside the box – An elegant Lord Shiva with family painting
Care Instructions – Clean with soft non abrasive cloth.
Variant 1 – Dimension – 12.5in*2.5in*14.5in (L*B*H) Weight 3000 grams
Variant 2 – Dimension – 14.5in*2.5in*17.5in (L*B*H) Weight 3500 grams
Variant 3 – Dimension – 17.5in*2.5in*21.5in (L*B*H) Weight 4000 grams
Dimensions & Weight may vary a little as these are custom made to order
All Dimensions & Weight are Inclusive of Frame
For customization kindly contact our customer care
Discover Uniqueness ! Trogons products render beauty to the lives of customers by giving them unique & attractive choices. Hit "Like" to explore and follow our exciting journey on Facebook.