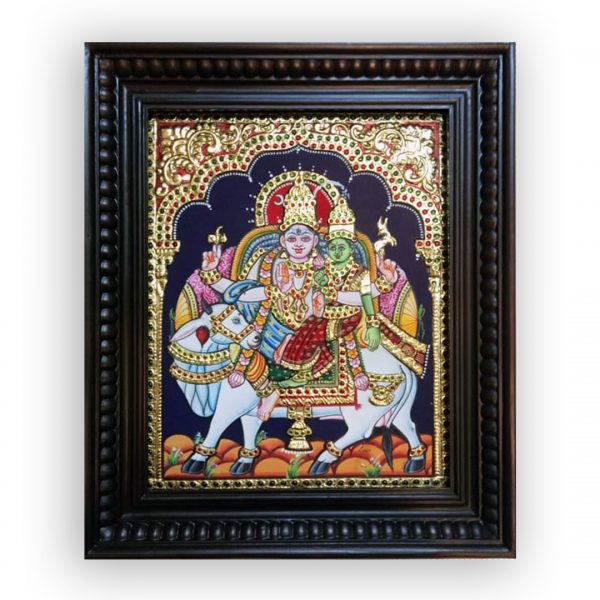 Tanjore painting Pradhosa Shiva and Parvati
₹9,899 – ₹19,899
Inclusive of all taxes.
Free shipping on all orders above ₹499.
Lord Ayyappa is a popular Hindu deity in the South Indian state of Kerala. Lord Ayyappa was born with the powers of Shiva and Vishnu to confront and defeat the shape-shifting evil Buffalo demoness Mahishi. The painting of Ayyappa Swami is a typical traditional Tanjore which is coated with the best grade of chalk powder and natural gum Gondhu. The painting is stunningly curated by our skilled artisans. Something like this will be an excellent addition to any house.
Usually delivered within 9-20 working days
Get Rs500 off on shopping of Rs 4000 & above . Use coupon code "TROGONS500"
10 % instant discount for all new users . Use coupon code "TROGONS" on min spend of Rs499
Get 15% off this Diwali on all products. Use code ' Diwali2022 ' on min spend of Rs 499.
Description
Lord Shiva is the third god in the Hindu triumvirate. The triumvirate consists of three gods who are responsible for the creation, upkeep, and destruction of the world. The other two gods are Brahma and Vishnu. Lord Shiva has the role of destroying the universe in order to re-create it. Parvati who is also known as Uma is the goddess of love, fertility, beauty, harmony, marriage, children, and devotion. Parvati won Shiva?s affection by going through severe austerities, penance, and ascetic discipline. Lord Shiva promised to marry her, as he was pleased by her love and devotion.
This charming painting of Lord Shiva and Parvati is furnished with 22-carat gold foil and is embedded with semi-precious stones and zircon stones. The frame is coated with the finest quality grade of chalk powder and natural gum Gondhu. The painting has been framed with a traditional Chettinad teak wood frame with an unbreakable acrylic glass on the surface. This painting has nothing to point out, every inch of it is beautifully made.
Grab this unique painting home and give room for exclusivity in your home!
Variants
Available in 3 different sizes
Product Specification
Primary Material – 22 K Gold foil handpainted art on waterproof plywood , semiprecious stone and zircon stone work, chettinad teak wood frame with good quality transparent acrylic sheets
What is inside the box – An elegant Shiva and Parvati painting
Care Instructions – Clean with soft non abrasive cloth.
Variant 1 – Dimension – 12.5in*2.5in*14.5in (L*B*H) Weight 3000 grams
Variant 2 – Dimension – 14.5in*2.5in*17.5in (L*B*H) Weight 3500 grams
Variant 3 – Dimension – 17.5in*2.5in*21.5in (L*B*H) Weight 4000 grams
Dimensions & Weight may vary a little as these are custom made to order
All Dimensions & Weight are Inclusive of Frame
For customization kindly contact our customer care
Discover Uniqueness ! Trogons products render beauty to the lives of customers by giving them unique & attractive choices. Hit "Like" to explore and follow our exciting journey on Facebook.