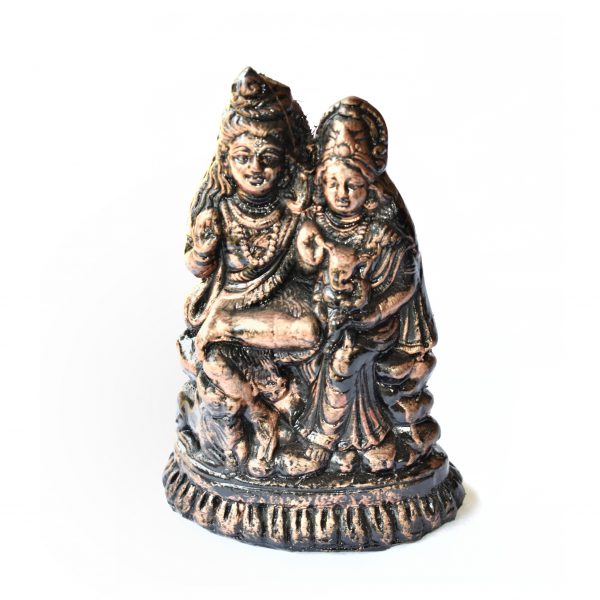 Shiv Parvati Idol
₹739
Inclusive of all taxes.
Free shipping on all orders above ₹499.
The Shiv Parvati idol is a beautiful home decor item that will bless your home and bring happiness. This is a perfect statue to decorate your living space and gifting purpose. The idol is handcrafted by skilled artisans and made to perfection. It is an ideal piece to keep in home temple, living room and drawing room. It can be gifted to loved ones on special occasions such as house warming parties, anniversaries and festivals. Buy the Shiv Parvati idol from our exquisite collection and bring radiance into your home!
In Stock
Usually delivered within 5-8 working days
Get Rs500 off on shopping of Rs 4000 & above . Use coupon code "TROGONS500"
10 % instant discount for all new users . Use coupon code "TROGONS" on min spend of Rs499
Description
The Shiv Parvati idol incorporates the supreme power of Hinduism with his wife. Shiva is the one of the principal deities of Hinduism and is known as the Destroyer of Earth, The Divine Energy and Lord of Devas. He is depicted as a Yogi who lives an ascetic life on Mount Kailash.
Parvati is the wife of Lord Shiva and the goddess of love, fertility, beauty, harmony and devotion. She connects all human beings and bonds them together. She is the power of Shiva and an agent of the Universe.
This Shiv Parvati idol is a perfect decorative item for your living space. It will enhance the empty spaces in your house by giving them the completeness they require. It can be kept in the living room, drawing room or the temple of the house. The Shiv Parvati murti gives out radiance that will render positive vibes to your place and sooth your mind. By praying to Shiv and Parvati, all your miseries will fade away and negativity will vanish. Moreover, having the Shiv Parvati idol in your house, will drive bad luck away and attract fortune. To keep yourself and your family healthy and prosperous, keep the Shiv Parvati murti in your temple and pray before it everyday.
To express your affection and care for your loved ones, gift them the Shiv Parvati murti on any special occasions like anniversaries, house warming ceremonies or festivals. Shiv and Parvati will bless you and them with happiness and joy. It is handcrafted with care by skilled artisans using detailed techniques and methods. The beautifully coloured statue is a model to behold and appreciated. The product is valued for its excellent craftsmanship and uniqueness.
Buy the exquisite statue from our wide range of products and bring good fortune into your life and receive the choicest blessings of Shiv Parvati.
Product Specification
Primary Material – Gypsum,concrete and Plaster of Paris
What is inside the box – One Shiv Parvati Idol
Care Instructions – Clean with soft cloth.
Dimension – 12cm*5cm*20cm(L*B*H)
Weight -250 grams
Discover Uniqueness ! Trogons products render beauty to the lives of customers by giving them unique & attractive choices. Hit "Like" to explore and follow our exciting journey on Facebook.