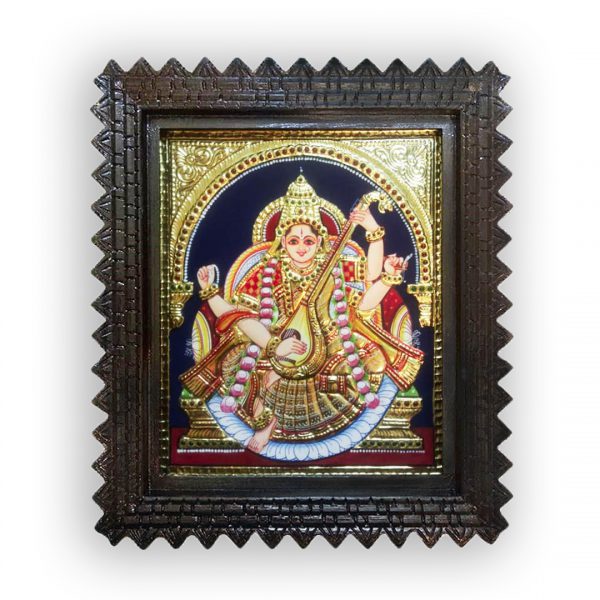 Tanjore painting Goddess Saraswati
₹12,899 – ₹19,899
Inclusive of all taxes.
Free shipping on all orders above ₹499.
A symbol of knowledge, Goddess Saraswati is extremely honorable. The painting shows a picture of Goddess Saraswati Devi with four arms and holding veena. This Tanjore painting is beautifully constructed with a durable and gleaming Chettinad teak wood frame and an unbreakable acrylic glass for safety. The finest quality of transparent acrylic sheets is used for frame fabrication. Goddess Saraswati is a salient Goddess in Hinduism. Lord Brahma created Goddess Saraswati from his own mouth
Usually delivered within 9-20 working days
Get Rs500 off on shopping of Rs 4000 & above . Use coupon code "TROGONS500"
10 % instant discount for all new users . Use coupon code "TROGONS" on min spend of Rs499
Get 15% off this Diwali on all products. Use code ' Diwali2022 ' on min spend of Rs 499.
Description
The name Saraswati came from the word ?saras? and ?wati?, which means ?possessing water?, as ?saras? means fluid and ?wati? means having. Goddess Saraswati is the most major Goddess and most worshipped and adored by people. She is depicted as the Goddess of knowledge, music, arts, and science. Goddess Saraswati is worshipped is not just worshipped by Hindus, Buddhists, Sikhs, and Jains also worship and admire her. She is worshipped on the 5th day of the Hindu calendar, which is known as ?Vasant Panchami? and people refer to it as Saraswati puja. Goddess Saraswati has her symbolic animal as the swan, as she is also referred to as Hamsavahini. That means she has hamsa as her vehicle.
In this bewitching traditional Tanjore painting, Godess saraswati painting is bordered with 22-carat gold foil which is enriched with semi-precious stone and zircon stone. Our skilled artisans had their hands on the painting, so no brainer, it is perfectly furnished with exact cuts. Do not worry as the plywood base is water-resistant, it will not get spoiled if there is an unanticipated spill of water. It is handmade with water-soluble colors. This piece spreads glory where ever it is placed and also with Goddess Saraswati in it, it is just like inviting knowledge and wisdom over to your place.
My advice to you would be, bring this home and have knowledge and wisdom residing under your roof.
Variants
Available in 2 different sizes
Product Specification
Primary Material – 22 K Gold foil handpainted art on waterproof plywood , semiprecious stone and zircon stone work, chettinad teak wood frame with good quality transparent acrylic sheets
What is inside the box – An elegant Saraswati devi painting
Care Instructions – Clean with soft non abrasive cloth.
Variant 1 – Dimension – 14.5in*2.5in*17.5in (L*B*H) Weight 3500 grams
Variant 2 – Dimension – 17.5in*2.5in*21.5in (L*B*H) Weight 4000 grams
Dimensions & Weight may vary a little as these are custom made to order
All Dimensions & Weight are Inclusive of Frame
For customization kindly contact our customer care
Discover Uniqueness ! Trogons products render beauty to the lives of customers by giving them unique & attractive choices. Hit "Like" to explore and follow our exciting journey on Facebook.