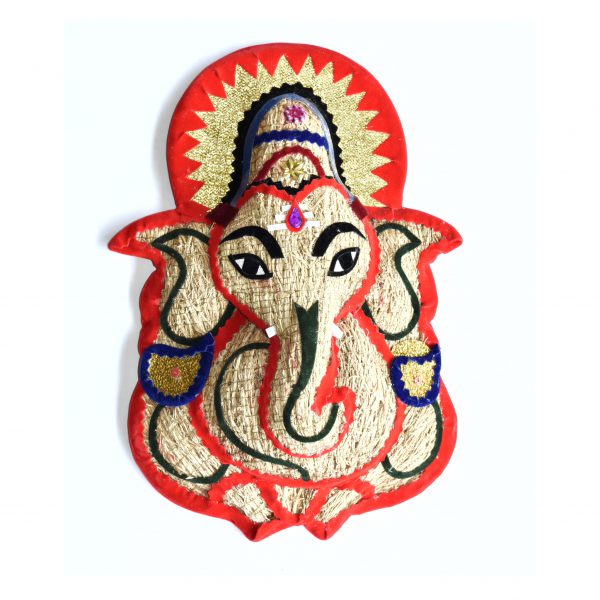 Lord Ganesh wall hanging made of special Grass (Ramacham) used in Pooja
₹838 – ₹1,922
Inclusive of all taxes.
Free shipping on all orders above ₹499.
The Lord Ganesh wall hanging is a sacred and austere home decor item to enhance the beauty of your living space! It bestows positive vibes and prosperity on the owner and keeps the atmosphere spiritual. The Lord Ganesh wall hanging is perfect for decorating your living room and temple! It can also be gifted on special occasions to loved ones! Show your affection for people by gifting them this mystical wall hanging.?The Ganesh wall hanging with a fine wooden finish represents excellent craftsmanship. It is made with extra care and attention to suit all types of interior designs.?Buy the Lord Ganesh wall hanging and invite good fortune and health in your life.
Usually delivered within 5-8 working days
Independence day sale ! Get 15% off on all products. Use code ' Freedom ' on min spend of Rs 499.
Get Rs500 off on shopping of Rs 4000 & above . Use coupon code "TROGONS500"
10 % instant discount for all new users . Use coupon code "TROGONS" on min spend of Rs499
Description
The lord Ganesh wall hanging denotes the most important and worshipped parts of the Hindu religion. Lord Ganesha is famously known as the God of success, new beginnings and wisdom. He is one of the most worshipped Hindu idol and is deemed as a remover of obstacles by helping people circumvent problems.
The Ganesha wall hanging is an exquisite home decor item, designed to suit every living space. It can be placed in the living room, drawing room or the temple. It acts as a symbol of positivity, wisdom and prosperity. Therefore, it radiates positivity and keeps the atmosphere calm and spiritual. You will experience a sense of austerity and composure being induced in your aura through the practice of prayer in front of the Ganesh wall hanging. Praying to Lord Ganesha will ameliorate your pains, elevate you to spirituality and enhance your living. This wall hanging is made with Ramacham grass. This is plant with fragrant roots and solves many medical issues. It cures many health problems and is therapeutic.?
The beauty of the wall hanging is enhanced by the excellent craftsmanship by skilled artisans.?The detailed wooden work and perfect tinges of colour reflect the dedication of the artisans. Wall hanging of lord Ganesha is also a perfect gift for your loved ones. You can gift it on special occasions like anniversaries, house warming parties and festivals like Diwali, to express your affection for them and share the blessings of Ganesha.?
Show your devotion to Ganpati by bringing home Lord Ganesh wall hanging to your home. Buy this classic wall hanging to beautify the aura of your house and receive your share of joy.
Variants
Available in 5 different sizes
Product Specification
Primary Material – Ramacham grass
What is inside the box – One Lord Ganesh wall hanging made of ramacham grass
Care Instructions – Clean with dry soft cloth.
Variant 10″ – Dimension – 18cm*7cm*27cm (L*B*H) Weight – 100 grams
Variant 12″ – Dimension – 25cm*7cm*33cm (L*B*H) Weight – 150 grams
Variant 14″ – Dimension – 25cm*8cm*37cm (L*B*H) Weight – 200 grams
Variant 15″ – Dimension – 30cm*12cm*41cm (L*B*H) Weight – 250 grams
Variant 16″ – Dimension – 34cm*14cm*45cm (L*B*H) Weight -350 grams
Discover Uniqueness ! Trogons products render beauty to the lives of customers by giving them unique & attractive choices. Hit "Like" to explore and follow our exciting journey on Facebook.