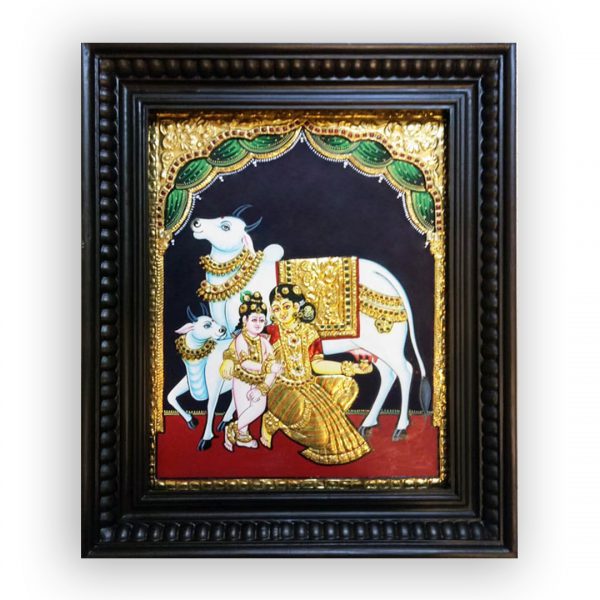 Tanjore painting Krishna and Yashoda with Gomatha
₹9,899 – ₹19,899
Inclusive of all taxes.
Free shipping on all orders above ₹499.
A stupefying painting of Lord Krishna and her foster mother Yashoda with the Gomatha. Yes, we all know that Yashoda is not the one who gave birth to Lord Krishna, but she did play an important and valuable part in his life and especially childhood witnessing all his lilas. The actual mother of Lord Krishna is Devaki. This traditional Tanjore painting of Krishna and Gomatha is very-well designed. All the materials used in the process of making this painting reflects top-notch quality and glory.
Usually delivered within 9-20 working days
Get Rs500 off on shopping of Rs 4000 & above . Use coupon code "TROGONS500"
10 % instant discount for all new users . Use coupon code "TROGONS" on min spend of Rs499
Get 15% off this Diwali on all products. Use code ' Diwali2022 ' on min spend of Rs 499.
Description
Lord Krishna was actually born in the Yadava Clan of Mathurato queen Devaki and her husband, King Vasudeva. But Lord Krishna was raised by Yashoda and his husband Nanda Baba because King Vasudeva brought Krishna to Nanda Baba in Gokul and asks him to raise and protect him from Devaki?s brother Kansa, who is the king of Mathura. Yashoda raises Lord Krishna and had witnessed all his lilas. Gomatha is a devotee of Lord Krishna. When Lord Krishna leaves Vrindavan, Gomatha actually cries. After having left Vrindavan, Lord Krishna has never really got back to Vrindavan to see Yashoda except for a single time to meet his parents Vasudeva and Devaki.
The painting of this beautiful mother and son is painted with water-soluble colors. A durable and fragrant Chettinad teak wood frame is involved. The 22-carat gold foil present is embedded with semi-precious and zircon stones. Do not worry and scold anyone who accidentally spills water on this precious painting, as the plywood base is water-resistant. Unbreakable acrylic glass is employes to ensure the safety and warranty of the painting. The finest grade of chalk powder and natural Arabic gum Gondhu is used in the coating. Our skilled artisans had their own hands in crafting this traditional Tanjore painting.
The love between Yashoda and Lord Krishna has been cherished always, usher the painting home and celebrate the charm of love!
Variants
Available in 3 different sizes
Product Specification
Primary Material – 22 K Gold foil handpainted art on waterproof plywood , semiprecious stone and zircon stone work, chettinad teak wood frame with good quality transparent acrylic sheets
What is inside the box – An elegant Krishna and Yashoda painting
Care Instructions – Clean with soft non abrasive cloth.
Variant 1 – Dimension – 12.5in*2.5in*14.5in (L*B*H) Weight 3000 grams
Variant 2 – Dimension – 14.5in*2.5in*17.5in (L*B*H) Weight 3500 grams
Variant 3 – Dimension – 17.5in*2.5in*21.5in (L*B*H) Weight 4000 grams
Dimensions & Weight may vary a little as these are custom made to order
All Dimensions & Weight are Inclusive of Frame
For customization kindly contact our customer care
Discover Uniqueness ! Trogons products render beauty to the lives of customers by giving them unique & attractive choices. Hit "Like" to explore and follow our exciting journey on Facebook.