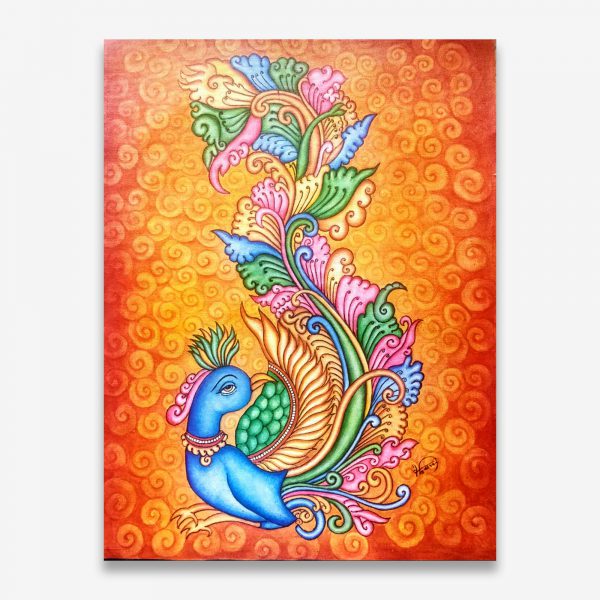 Peacock painting – Kerala mural art
₹2,379
Inclusive of all taxes.
Free shipping on all orders above ₹499.
A beautiful mural painting of peacock from Kerala that will fit any space in the interior. A painting that contains history and art in one single frame. It is one of the most admired styles of painting from Kerala. Style, history and craftsmanship add to their uniqueness. Grab this elegant piece of art that perfectly beautifies your humble abodes. This exquisite collection of paintings are seen decorated in Kerala temples. These completely handmade paintings from artisans of kerala are colored with acrylic colors on canvas. This style of paintings are mostly of hindu deities, ancient kings and heroes. The painting is colored in multiple layers and different orders. Panchavarnam colors are incorporated throughout the picture that makes it look lively and beautiful. This painting of peacock in an orange background is elegant with multicolored feathers. Buy this now and make your space elegant.
Hurry ! only 1 left
Usually delivered within 5-9 working days
Get Rs500 off on shopping of Rs 4000 & above . Use coupon code "TROGONS500"
10 % instant discount for all new users . Use coupon code "TROGONS" on min spend of Rs499
Description
Kerala murals are one such piece of history that brings high aesthetic value to your homes. These paintings include gods and goddesses of hindu pantheon, ancient kings and heroes. They even depict scenes of epics like Ramayana and Mahabharat. They were admired by many around the world for their elegant style. Earlier coloring was done with natural colors extracted from fruit juices, roots and natural dyes. Now in the modern days, acrylic paints, synthetic brushes, canvas sheets are used for painting. These murals are displayed in the galleries of temples. Murals were painted in panchavarnam yellow, red, green, blue and white. This elegant peacock is painted on canvas sheets using acrylic colors. Artisans crafted these murals in different combinations and orders. First yellow, then red, green, blue and white. On shading black is used to delineate and bring life to the portrayal. This finely crafted painting is attractive and can be hung on any wall in home or office. The art has transformed completely with more shading and additional colors like blue. It?s shapes, lines, colors, tones, and textures are used in various ways to produce sensations of volume, space, movement and light on a flat surface. These elements are combined into expressive patterns of real or supernatural phenomenon, to interpret a narrative theme. Choose from the exquisite collection of historical pieces from trogons and adorn your home interiors or office. Bring back history and love for art into your homes. A perfect interior decor with history and heritage. Buy this beautiful and bright painting of the mighty peacock with just a click.
Product Specification
Primary Material – Acrylic paints, Canvas sheet
What is inside the box – One Kerala mural painting
Care Instructions – Clean with soft cloth.
Dimension – 30cm*42cm(L*H)
Discover Uniqueness ! Trogons products render beauty to the lives of customers by giving them unique & attractive choices. Hit "Like" to explore and follow our exciting journey on Facebook.