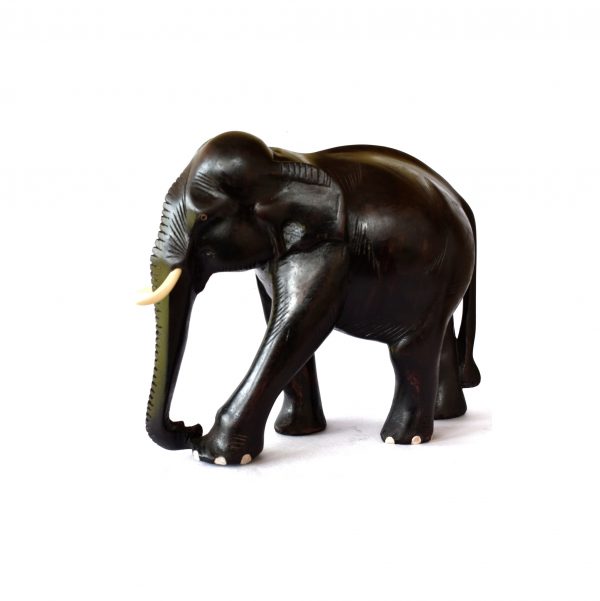 Decorative Wooden Elephant Showpiece
₹591 – ₹35,974
Inclusive of all taxes.
Free shipping on all orders above ₹499.
Rosewood hand crafted model of an Indian Elephant with amazing finish made by carftsman from Kerala.
Usually delivered within 5-8 working days
Get Rs500 off on shopping of Rs 4000 & above . Use coupon code "TROGONS500"
10 % instant discount for all new users . Use coupon code "TROGONS" on min spend of Rs499
Get 15% off this Diwali on all products. Use code ' Diwali2022 ' on min spend of Rs 499.
Description
Traditionally crafted carefully handcrafted, made of rosewood this Elephant wooden showpiece symbolizes power, good luck, wisdom, and fertility. It is also believed and kept as a potential good luck charm. They are the main energies brought by the symbol of the elephant in any space it is placed in, be it your bedroom or your office cabin. The Elephant showpiece?s body is sculpted with fine precision and detail, using the strong and highly durable rosewood. Rosewood is known to be a precious and expensive type of hardwood. Its close and dense grain characteristics makes it extremely strong and durable as well as tolerant to all weather conditions. Beautifully detailed and smooth finished this decorative elephant is handcrafted work delivered by artisans with generations of experience and expertise. It can also be used to gift someone you love on various occasions. The looks of this Wooden Elephant Showpiece figurine is sure to make an ideal gift for someone who is an animal lover or just simply works great to add rustic ambience to your rooms and will not fail to be a excellent addition to your room decor. purchase this wooden elephant to serve as a great companion for you tables, shelves and mantels.
Variants
It is available in 5 different sizes
Product Specification
Primary Material – Rosewood
What is inside the box – One Decorative wooden Elephant Showpiece
Care Instructions – Clean with soft cloth.
Variant 3″ – Dimension – 10cm*5cm*9cm (L*B*H) Weight – 100 grams
Variant 5″ – Dimension – 18cm*9cm*17cm (L*B*H) Weight – 100 grams
Variant 6″ – Dimension – 18cm*8cm*18cm (L*B*H) Weight – 200 grams
Variant 10″ – Dimension – 28cm*15cm*25cm (L*B*H) Weight – 600 grams
Variant 16″ – Dimension – 60cm*20cm*15cm (L*B*H) Weight – 4000 grams
Discover Uniqueness ! Trogons products render beauty to the lives of customers by giving them unique & attractive choices. Hit "Like" to explore and follow our exciting journey on Facebook.