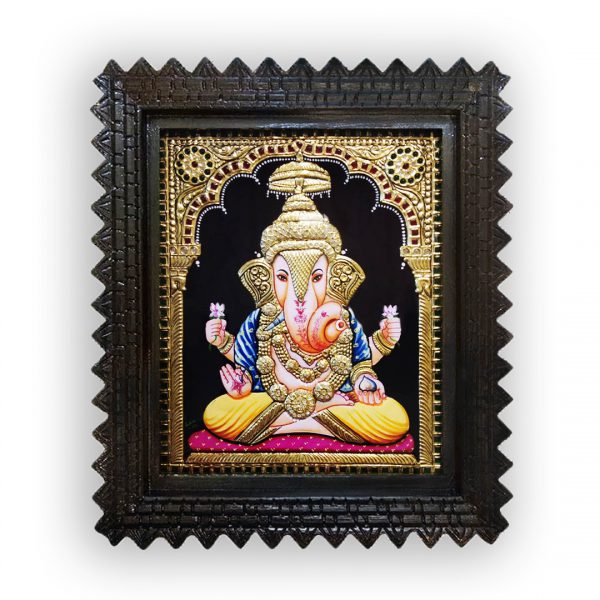 Tanjore painting Ganesha
₹9,899 – ₹19,899
Inclusive of all taxes.
Free shipping on all orders above ₹499.
Lord Ganesha is prioritized first by every individual before starting anything new. He is also known as Ganapati. Lord Ganesha is the elephant-headed Hindu God of beginnings. This most-adored and worshipped God is skillfully kept in a Chettinad teak wood frame for you to enjoy. No brainer about the frame, it is amazingly durable and the plywood base is water-resistant. A 22-carat pure gold foil has been used for bordering which enriches the painting to a majestic level. Everything about this frame just makes me go awe.
Get this to your place and feel the same day I do!

Usually delivered within 9-20 working days
Independence day sale ! Get 15% off on all products. Use code ' Freedom ' on min spend of Rs 499.
Get Rs500 off on shopping of Rs 4000 & above . Use coupon code "TROGONS500"
10 % instant discount for all new users . Use coupon code "TROGONS" on min spend of Rs499
Description
Among all Hindu Gods, Lord Ganesha is believed to be the God of prosperity and wealth. Before starting with a new firm, foundation, or an enterprise everyone worships Lord Ganesha as it is a sign of good and healthy beginnings. It is believed that Lord Ganesha clears all the clutter in the way you will be passing through and will help you reach the destination you desired for. He symbolizes, wisdom, understanding, prosperity, and wealth. Let it be Ganeshas? statues, paintings, and idols they always stay in demand, irrespective of the season. There are various lessons to be learned from Lord Ganesha, that is duty over anything, respect for parents, sacrifice, forgiveness, equality, etc.
Lord Ganesha is respected and identified as remover of obstacles. He helps you in paving a nice way and giving you the life you want. This is the painting of such a great and extraordinary deity, everything used will enhance his glory. It is made with unbreakable acrylic glass, the gold foil is embedded with semi-precious stones and zircon stones.
There is no reason to deny this painting actually, so why don?t you get this home and let Lord Ganesha take over your life and clean everything that is ruining your life.
Variants
Available in 3 different sizes
Product Specification
Primary Material – 22 K Gold foil handpainted art on waterproof plywood , semiprecious stone and zircon stone work, chettinad teak wood frame with good quality transparent acrylic sheets
What is inside the box – An elegant Lord Ganesha painting
Care Instructions – Clean with soft non abrasive cloth.
Variant 1 – Dimension – 12.5in*2.5in*14.5in (L*B*H) Weight 3000 grams
Variant 2 – Dimension – 14.5in*2.5in*17.5in (L*B*H) Weight 3500 grams
Variant 3 – Dimension – 17.5in*2.5in*21.5in (L*B*H) Weight 4000 grams
Dimensions & Weight may vary a little as these are custom made to order
All Dimensions & Weight are Inclusive of Frame
For customization kindly contact our customer care
Discover Uniqueness ! Trogons products render beauty to the lives of customers by giving them unique & attractive choices. Hit "Like" to explore and follow our exciting journey on Facebook.