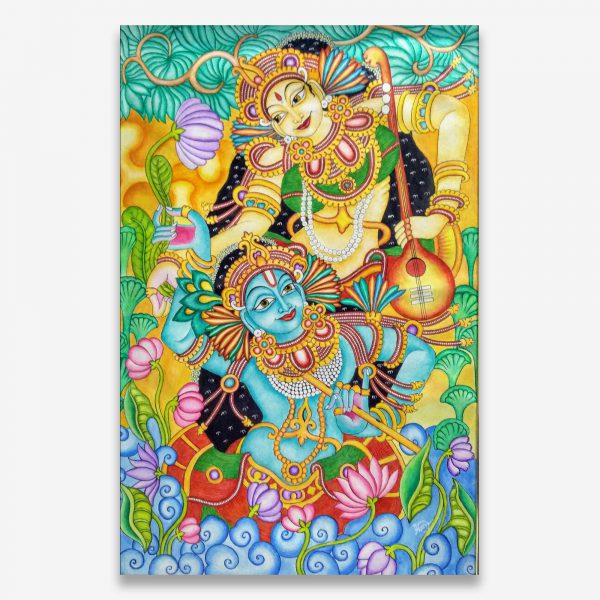 RadhaKrishna painting – Kerala Mural art
₹14,799
Inclusive of all taxes.
Free shipping on all orders above ₹499.
Are you looking for a painting which has historic value and significance? Then this is picked just for you. This painting is beautiful and one of a kind. Kerala murals stand out for their prominence of beauty, clarity and symmetry. They mostly revolve around hindu deities of epics like ramayana and mahabharat. They are completely painted with acrylic colors. The paintings are shaded with light colors over the edges, making it more lively. Coloring is done in various orders and shades to give life to the picture. The painting dominates the walls, every color is bold and painted with such precise and sharply defined. Bring this elite portrait of hindu deity that perfectly decorates your interior and fill your lovely homes with history and culture.This portrait of lord Krishan with Radha is attractive and elegant, attracting everyone's attention. Explore more such historic collections of art at trogons and rab the one that looks cool to your home.
Hurry ! only 1 left
Usually delivered within 12-19 working days
Get Rs500 off on shopping of Rs 4000 & above . Use coupon code "TROGONS500"
10 % instant discount for all new users . Use coupon code "TROGONS" on min spend of Rs499
Description
Here is a picture of lord Krishna and the beautiful Radha dancing to the melody and rhythm of music. The composition of the painting is curious and full of contrasting colors. The colors are vivid,the stroke lines are bold and images from out of this world. It is a novel condensed onto a single page. Every aspect of this painting is detailed and lively. This style of painting is ancient and some of them are seen in the galleries of kerala temples. These paintings are mostly of hindu deities, kings and scenes of epics like Ramayana and Mahabharata. Intricacy and detailing in the paintings account for wide acceptance by people around the length and breadth of the country. Earlier colors were extracted from fruit juices, herbal dyes, stones and roots, and artists draw them with roots and cloth. Now this authentic style of painting has been crafted with modern items such as acrylic paints, synthetic brushes and canvas sheets. This painting is colored with panchavarnam colors that include yellow, red, green, black and white. The colors are diluted and painted with light shades at the beginning of the craft. First yellow is used and red, green, blue and brown in the order. White and black is used wherever needed to bring life to the painting. This elegant painting is adorning and attractive. Blue floral designs introduced glorify the painting and lift up the spirits of one who notices it. Grab this wonderful form of art with high aesthetic quality and emotions. Buy it for yourself or your loved ones, a perfect decor for home and office.
Product Specification
Primary Material – Acrylic paints, canvas sheet
What is inside the box – One Kerala mural painting
Care Instructions – Clean with soft cloth.
Dimension – 61cm*91cm (L*H)
Discover Uniqueness ! Trogons products render beauty to the lives of customers by giving them unique & attractive choices. Hit "Like" to explore and follow our exciting journey on Facebook.