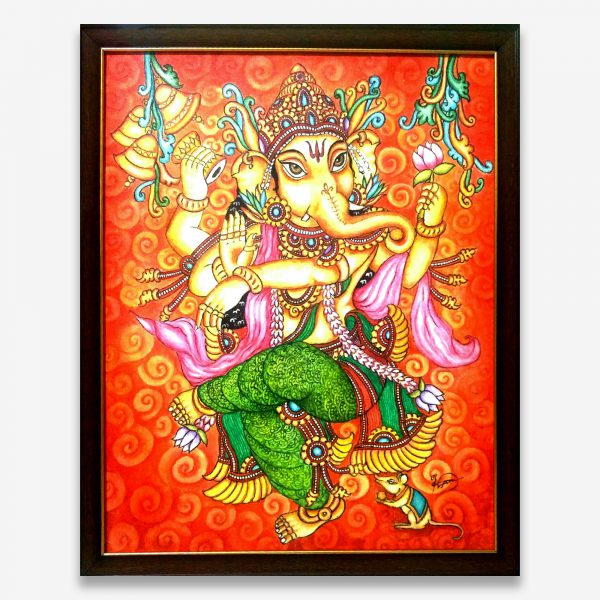 Dancing Ganesha painting – Kerala mural art
₹7,499
Inclusive of all taxes.
Free shipping on all orders above ₹499.
Are you a fan of art? Looking for decor that will brighten up your space? Then this Kerala mural painting of lord Ganesha can be your go to choice. This painting in acrylic colours portrays lord Ganesha, who is seen as the god who detaches obstacles and difficulties from your path to bring success in life. This portrait uses bright and vibrant colors ranging from green to blue. The order of colouring is first yellow, red, green, blue and brown (mixture of red and yellow). White is used for prevailing white spaces which are retained during the initial coating. The colours are generally prepared in diluted form and painted beginning with lighter shades. This painting involves skill, detail and precision that will suit perfectly to any space while giving it vibes of positivity,
Hurry ! only 1 left
Usually delivered within 7-13 working days
Independence day sale ! Get 15% off on all products. Use code ' Freedom ' on min spend of Rs 499.
Get Rs500 off on shopping of Rs 4000 & above . Use coupon code "TROGONS500"
10 % instant discount for all new users . Use coupon code "TROGONS" on min spend of Rs499
Description
The paintings of mural art have been started long back and the evidence can be found from the rock paintings of Anjanad Valley of Idukki district. These paintings mainly revolve around Gods, Goddesses, the kings and the scenes pictured are from the puranas like Ramayana and Mahabharata. It's because of this reason that these paintings are found on the walls of Kerala temples. Kerala murals stand out for their prominence in beauty, clarity and symmetry. The peculiarity of these murals is a simple and thematic representation of human, animals and trees with technical excellence, illustrated with rich and delicate strokes hued with bright colours. The traditional murals are made of colours (Panchavarna) namely yellow, red, green, black and white prepared from herbal dyes, fruit juices, stones and roots. Bamboo sticks are used for outlining and tree roots used as brush. These paintings are now created on canvas sheets and clothes using acrylic and fabric paints using brushes available in the market. The art has transformed completely with more shading and additional colours like blue. The color black is used to delineate and bring life to the portrayal. Wouldn't it be a perfect piece to decorate your space with this mural painting of lord Ganesha? Buy this beautiful painting of lord Ganesha, the remover of obstacles to elevate the positive vibes of your space.This is a perfect decor for home, office or even as a gift to family and friends.
Product Specification
Primary Material – Acrylic paints, canvas board in wooden frame
What is inside the box – One Kerala mural painting
Care Instructions – Clean with soft cloth.
Dimension – 41cm*51cm (L*H)
Discover Uniqueness ! Trogons products render beauty to the lives of customers by giving them unique & attractive choices. Hit "Like" to explore and follow our exciting journey on Facebook.