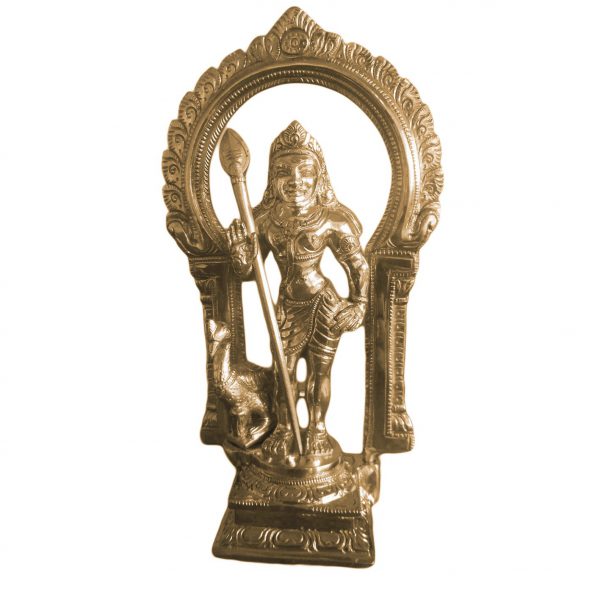 Lord Balamurugan
₹5,699
Inclusive of all taxes.
Free shipping on all orders above ₹499.
This Lord Balamurugan (Kartikeya) bronze idol is beautifully crafted using the famous ancient chola as the Lost Wax Method of bronze casting. This piece will make a lovely addition to your pooja room or shelves. You can also bless your loved ones with peace and values of Lord Kartikeya.
In Stock
Usually delivered within 16-24 working days
Independence day sale ! Get 15% off on all products. Use code ' Freedom ' on min spend of Rs 499.
Get Rs500 off on shopping of Rs 4000 & above . Use coupon code "TROGONS500"
10 % instant discount for all new users . Use coupon code "TROGONS" on min spend of Rs499
Description
Looking to add some ancient ambience to your house looks? Check out our handcrafted beautiful Lord Balamurugan bronze idol. Chola Bronze Statues are epitome of Indian Metal Art. Originated during Chola dynasty rule (in southern India), it is considered as one of the most refined forms of metal art and the Cholas were remarkable for their sculptures and bronzes. In the process of making the artists first model a figure in bee wax then cover it with a special clay mixture. Later the mould is heated and the wax is drained out. Lastly the molten bronze is poured into the mould. The final mass is dried and carved to perfection. This technique is called the Lost Wax Method of bronze casting. This exclusive bronze sculpture is of Lord Balamurugan(Kartikeya) . Lord Kartikeya is the son of Parvati and Shiva and brother of Lord Ganesha. This stunning Lord kartikeya idol has been intricately crafted? by skilled artisans who have worked on perfecting the art of the lost wax method of bronze casting for generations. It is highly durable and long lasting. Perfect to add to your antique ambience to all households and will serve as an excellent housewarming gift. You can also place it in your pooja room. Get this unique piece today!
Product Specification
Primary Material – Bronze ( Metal Casted )
What is inside the box – One Lord Balamurugan idol
Care Instructions – Clean with soft cloth.
Dimension – 8×15.5 cm (D*H)
Weight – 1100 grams
Discover Uniqueness ! Trogons products render beauty to the lives of customers by giving them unique & attractive choices. Hit "Like" to explore and follow our exciting journey on Facebook.