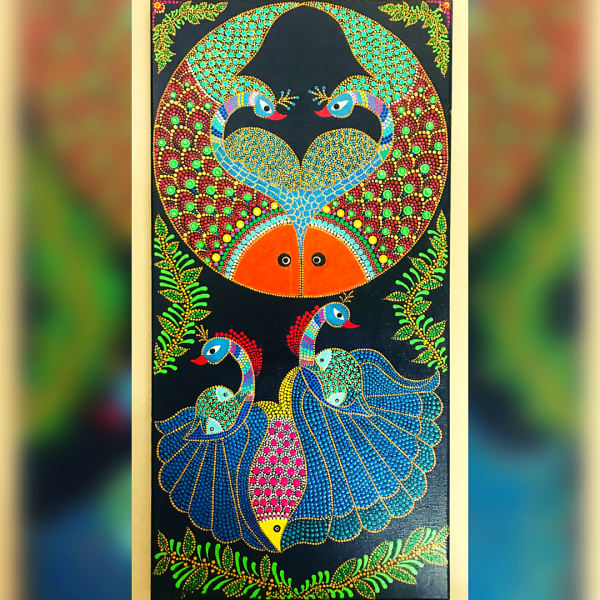 Dot art and Madhubani fusion painting
₹2,999
Inclusive of all taxes.
Free shipping on all orders above ₹499.
Madhubani painting is said to be one of the most popular and famous forms of painting that originated in the Mithila region of India. Madhubani painting is beautifully made with several tools including fingers, wigs, brushes, nib-pens, match sticks, and using natural dyes and pigments. The painting has been done on a stretched canvas. Stretched canvas is a canvas that transforms and stretches lovely photos and amazing designs over a wood frame ready for display. Canvas is typically stapled behind a frame for a firm and a tight fit. A stretched canvas is ready to be hanged on a straight wall.
In Stock
Usually delivered within 5-9 working days
Independence day sale ! Get 15% off on all products. Use code ' Freedom ' on min spend of Rs 499.
Get Rs500 off on shopping of Rs 4000 & above . Use coupon code "TROGONS500"
10 % instant discount for all new users . Use coupon code "TROGONS" on min spend of Rs499
Description
Stretched canvas can bring grace and beauty to your wall. Actually, the stretched canvas weighs less than the normal frames. They are easier to hang on the wall and can be cleaned with absolutely no efforts. Unlike other frames, stretched canvas does not need anything for protection. The best thing about the canvas is, it is designed with the elegant dot and acrylic painting. It is said that dot paintings typically used to represent a story. Apart from what it represents, dot paintings are very charming and can undoubtedly add beauty to your wall.
The stretched canvas holds true beauty as it has the bewitching Madhubani art on it. Madhubani fusion art emanates the social structure, cultural identity of its land, by the themes of religion, love, and fertility. It is famous for its uniqueness and naturality.
Product Specification
Primary Material – Acrylic paint, stretched canvas
What is inside the box – One dot art and Madhubani fusion painting
Care Instructions – Clean with a soft cloth.
Dimension – 10*20 inch (L*H)
Discover Uniqueness ! Trogons products render beauty to the lives of customers by giving them unique & attractive choices. Hit "Like" to explore and follow our exciting journey on Facebook.