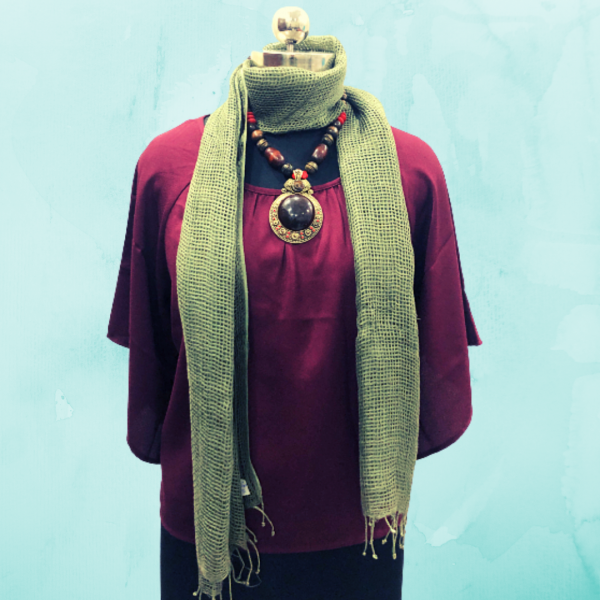 Olive green netted pure linen scarf
₹518
Inclusive of all taxes.
Free shipping on all orders above ₹499.
Woah, olive green has my heart! What about you? Olive green symbolizes a ray of new hope, an optimistic sense of possibility, and the traditional color of peace. An olive green scarf is like, it's legit beauty! The scarf is made with pure linen and it is netted. Every detail about this scarf gives you a reason to buy.
Hurry ! only 1 left
Usually delivered within 4-7 working days
Get Rs500 off on shopping of Rs 4000 & above . Use coupon code "TROGONS500"
10 % instant discount for all new users . Use coupon code "TROGONS" on min spend of Rs499
Description
Can you believe this? This scarf is fabricated from the strongest and most durable material ever! Linen is made to beat summers? heat, it can be the finest alternative and will greatly aid in escaping the heat out. Linen is nicely breathable and highly absorbent. It possesses unique properties and those will make the scarf softer, shinier, and luxurious. Linen cools the body and bestows a pleasant and refreshing feeling.
The olive green netted pure linen scarf is a direct product from the talented and skilled local artisans of Kolkata. The base of the scarf is not a readymade base, it is made by mixing several threads and fabrics. The scarf is pleasingly dyed with added softeners. Azo-free color, a vegetable-based dye, is used for dyeing and coloring the scarf. It doesn't cause any allergy as it suits all the skin types.
Olive green and splendid quality, they go hand in hand rarely. I request you not to miss this!
Product Specification
Primary Material – Pure Linen ( Netted )
What is inside the box – One scarf
Care Instructions – Do not bleach
Dimension – Width – 50 cms, Length – 180 cms
Weight – 150 grams
Discover Uniqueness ! Trogons products render beauty to the lives of customers by giving them unique & attractive choices. Hit "Like" to explore and follow our exciting journey on Facebook.