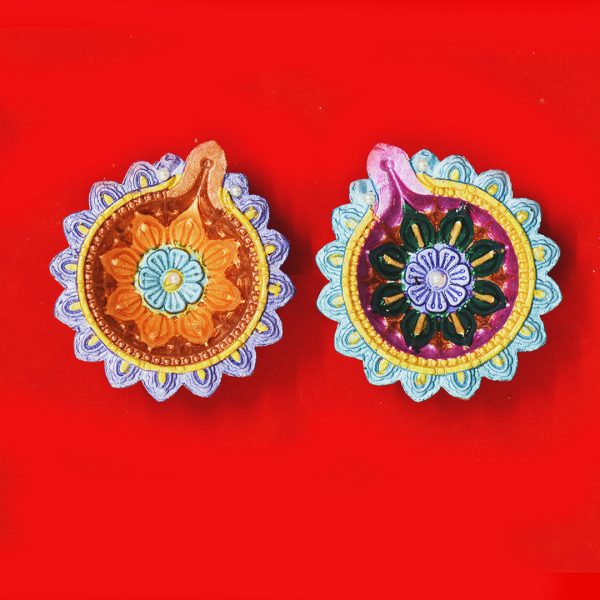 Handpainted sunflower shaped diya – pack of 6
₹179
Inclusive of all taxes.
Free shipping on all orders above ₹499.
Glow up your home with happiness from the light of these diya. Grab these bright colored and beautiful diyas from trogons. Light up your space with spirituality and intelligence. These hand painted diyas are made of clay and painted with bright colors and precision just for you. These diyas are made of clay and are painted with acrylic paints that can be used to decorate any space on any occasion. These diyas are carefully crafted with love and creativity to decorate your space while sending vibes of knowledge, divinity and goodness of the light. Buy them now and decorate your interiors and exteriors on festivals, special occasions and make it look as pretty as a picture by just lighting these lovely diyas. Make your space look gorgeous by just lighting these diyas and look at these diyas elevate the beauty.
Currently unavailable
Usually delivered within 4-9 working days
Get Rs500 off on shopping of Rs 4000 & above . Use coupon code "TROGONS500"
10 % instant discount for all new users . Use coupon code "TROGONS" on min spend of Rs499
Description
Are you looking for special diyas for special occasions? Want to buy hand painted diyas for an upcoming festival? Then these can be your go to choice. Grab these diyas now and watch them elevate the beauty of your space. These vibrant looking bright diyas are made of earthen clay and high detail to its design. They are crafted with bright colors and designs that are unique in itself and are sure to capture your attention. The light of these diyas signifies purity, goodness, divinity, spirituality, knowledge and power. The light of diya that represents the presence of hope, goodness and happiness is sure to beautify any space that is decorated in. One can use them to decorate their interiors or exteriors, on special occasions or festivals like Diwali or even Dussehra. These bright and colorful diyas that are unique and will definitely enlighten the space and fill it with positive energy. These earthen clay diyas are made with intricate detailing and are added with adorning creativity. These made of earthen clay are hand painted by creative artisans using acrylic paint with vivid colors that go well with each other. Buy these hand painted earthen clay diyas that use acrylic paint and are sure to decorate your space with the least effort. These diyas are a combination of creativity and color. Fill your soul with the divinity of the light from these diyas in your surroundings. Buy them with just a click and light them up on special occasions while making your space decorative.
Product Specification
Primary Material: clay,Acrylic paint
What is inside the box: Handpainted diya (Pack of 6)
Dimension – 9cm*8cm*2cm (L*B*H)
Discover Uniqueness ! Trogons products render beauty to the lives of customers by giving them unique & attractive choices. Hit "Like" to explore and follow our exciting journey on Facebook.