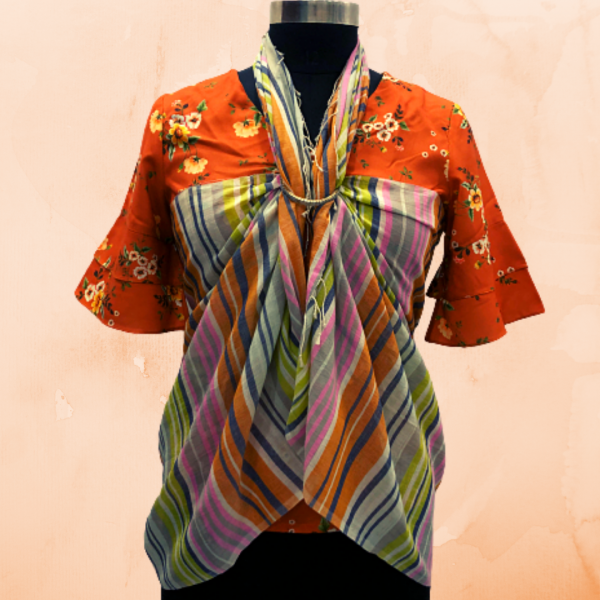 Cotton scarf with strips
₹944
Inclusive of all taxes.
Free shipping on all orders above ₹499.
Simple and colorful cotton scarf that suits all skin types and will add a stroke color any outfit. This striped handmade cotton scarf is hand crafted and is comfortable to wear while being a fashion statement. An assured quality and soft material is yours with just a click. A scarf specially made by skilled artisans and experts that is sure to steal your heart. This striped Handmade cotton scarf is hand woven from scratch and quality tested to bring the best for you from Kolkata. This cotton scarf uses azo-free dye which is natural and hence does not harm the skin. It is wash friendly and goes with any outfit if you style it right. Gift yourself or gift it for your loved ones this multifunctional cotton scarf that is filled with the spirits of local artisans. Buy now and get trendy.
Hurry ! only 1 left
Usually delivered within 4-7 working days
Get Rs500 off on shopping of Rs 4000 & above . Use coupon code "TROGONS500"
10 % instant discount for all new users . Use coupon code "TROGONS" on min spend of Rs499
Description
Buy simple and trendy pieces to add on to your outfit and flaunt your style. This striped handmade cotton scarf is handwoven by skilled artisans of Kolkata and dyed with natural colors. Along with being natural and trendy it is added with softeners. This cotton scarf uses azo-free dye which is based on vegetable dyes. The various threads t o weave this multicolor cotton scarf is hand picked by a team of experts. An assured product for its material quality and softness. This striped Handmade cotton scarf is not procured as a ready made cloth but is made with a mix of various threads and materials that are decided by our team of experts to ensure its quality and softness. This striped Handmade cotton scarf goes well with any outfit from casual to festive. One can wear it with a kurti, a sweater, a tank top or even t-shirts, just name it and come up with multiple outfits with just this one piece. It can be a perfect gift to fashion lovers while taking away your worry of what to gift to your friends. It will be perfect on any outfit and is multifunctional to meet all your needs for all your outfits. Another advantage that comes with this striped Handmade cotton scarf is that it does not bleed even after wash. Give a hand to boost India's economy by buying this scarf that is made from our local artisans from Kolkata that promotes Atmanirbhar Bharat. Finish your outfit with this striped handmade cotton scarf that is sure to set you apart from the rest of the crowd. Grab this trendy and comfortable piece immediately.
Product Specification
Primary Material – Cotton ( Hand Weaved )
What is inside the box – One scarf
Care Instructions – Do not bleach
Dimension – Width – 90 cms, Length – 180 cms
Weight – 150 grams
Discover Uniqueness ! Trogons products render beauty to the lives of customers by giving them unique & attractive choices. Hit "Like" to explore and follow our exciting journey on Facebook.